The Starry Night
By Neil Waldman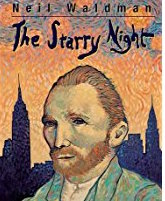 A young teen has an imaginary visit with a famous artist.
While having fun with his friends near Central Park in New York City, Bernard, a young African American teen, stops to watch an old man at an easel. Captivated by the bright colors on the canvas Bernard waits for the artist to finish a landscape of the city. When it is done and the man packs up to move on, he tells Bernard his name is Vincent and he needs to find more places in the city to paint. Bernard then takes Vincent to his own favorite places, the Brooklyn Bridge, Harlem, the Statue of Liberty and many more. Day by day Vincent paints them all until he takes Bernard to the MOMA, the Museum of Modern Art, and to one special painting that takes Bernard's breath away, but also inspires him to learn to follow Vincent's ways.
Waldman's exquisite use of color and his crisp text will appeal to readers of all ages, but particularly to young readers. This book will be a great addition to anyone who wants to promote Art Education and will be a fine addition to any home or school library.