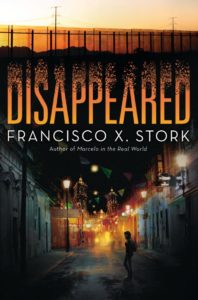 Sara Zapata's good friend Linda has disappeared, and Sara, a fledgling reporter at a struggling newspaper in Juárez, Mexico, wants to find her and the "only" 62 other young women who have disappeared in the same city that year. Her quest for the truth, though, puts her and her entire family in danger from the organized crime cartels that control the city.
Sara's younger brother, Emiliano, took a wrong turn after their father divorced their mother and moved to the United States, where he married an Anglo woman and started a new family. Now Emiliano has joined the Jiparis, an outdoor group similar to the Boy Scouts, and helps younger boys with a folk arts business connected to the Jiparis. His life is back on track, but his infatuation with the beautiful and wealthy Perla Rubi Esmeralda is tempting him to work with the same people who are threatening his sister.
Francisco X. Stork's Disappeared is a much-needed rarity, a character-driven thriller that makes readers think rather than simply turn the pages to find out what happens next. (Even though one does want to find out what happens next!) Sara's moral choices concern her professional dedication to the truth—and to the young women who have been kidnapped, sexually exploited, and murdered—despite the dangers to which she, her mother, and her brother are exposed. In this perilous environment, one cannot trust even friends and mentors. For Emiliano, the choice is equally stark, as his desire for Perla Rubi and the life she has means betraying his principles and the young Jiparis who have come to see him as a mentor.
While the stories begin as separate threads, they converge in multilayered and powerful ways in the hands of this skilled author. With its older characters and deep moral dilemmas, Disappeared serves as a complement and follow-up read to Phillippe Diederich's Playing for the Devil's Fire, another story of the cartel wars and their impact on a Mexican family.