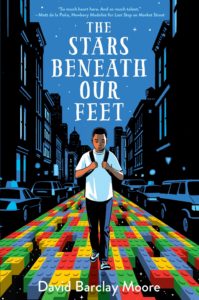 For many years I've been a Lego builder, creating a town with a combination of Lego kits and buildings of my own design that fit in with the classic appearance of the Modular themes. Because of this interest, I was particularly eager to read David Barclay Moore's debut middle grade novel The Stars Beneath Our Feet, which portrays a 12-year-old boy in Harlem using Lego to confront his grief after his older brother's violent death and to reach out to an isolated homeschooled girl who attends the same afterschool program.
Wallace "Lolly" Rachpaul has been in a tailspin after Jermaine's death, alienated from his Trinidadian parents and thinking of joining his brother's old gang for protection. When his mother's girlfriend (his parents are divorced and his mother has come out as a lesbian) brings home bags of Lego pieces from her job as a cleaner in a toy store, he finds a new outlet – an imaginary city called Moneekram. When his city outgrows his small apartment in the St. Nicholas Projects of New York City, he brings it to the community center and sets it up in the storage room, where he is soon joined by Big Rose, a withdrawn homeschooled girl one year older who shares his interest in Lego and architecture. Over the next months, he and Rose explore the real city as their creation grows, but dark clouds loom in the form of gang members who are threatening Lolly, a best friend who is himself tempted after a violent mugging, and the loss of the storage space to another tenant. Lolly is forced to make dangerous choices as he fights to keep both his Lego buildings and his friendships.
Moore deftly parallels Lolly's real life and the fate of his Lego community. Moneekram is a refuge from his daily stresses, but the world continues to intrude, and he cannot hide forever from the difficult choices he has to make. Early on, readers hear of an argument between Lolly and Jermaine that took place the afternoon before Jermaine's death, and although we don't know what happened until the end of the story, one suspects that it had to do with the temptations of gang life. Moore approaches this conflict with nuance and sensitivity; in his situation, there are no truly safe choices. Big Rose, who readers come to realize is on the autism spectrum despite her vehement denials, is believably drawn. As a Lego builder on the autism spectrum, I recognized her deliberate and realistic building style as she tries to get the details right. I do have one concern about the ending – the fact that Rose is sent to an inappropriately restrictive and unstimulating placement but one portrayed as where she belongs. I hope that we will soon have Own Voices portrayals of autistic characters of color for middle grade readers to fill this important gap. In the meantime, The Stars Beneath Our Feet is a vivid and thought-provoking novel that explores the transformative, community-building power of art.