This month, author Shana Burg has visited a number of blogs as part of her blog tour for her newly-released middle grade novel Laugh with the Moon (Delacorte). The novel, set in rural Malawi, portrays 13-year-old Clare, whose father has brought her there as part of his work as a doctor, but both Clare and her father are still mourning the sudden death of her mother less than a year earlier. On Tuesday, I will review Laugh with the Moon, but I also had the pleasure of interviewing Shana for The Pirate Tree:
LML: Why did you set the novel in Malawi?
SB: I set the novel in Malawi because I went there when I was in graduate school and it changed my life. Malawi is in Central Africa and it's one of the poorest nations on earth. When I went out into the bush, it was like traveling to another planet, in the sense that everything was so completely different from anywhere I had lived. Unlike here, in your typical U.S. city where people are rushing all over the place and consumed by technology, there without so many distractions, people really took time with each other. I wanted to show that world to my readers, and I thought it was the perfect place for a teenage girl from the U.S. to go to clear her mind and find the courage she needs to continue with her life after facing trauma at home.
Most children from the U.S. who go to live in the developing world attend private international schools. Why did you choose to have Clare attend a village school? What challenges did you face in writing about her school experience?
I wanted Clare to attend a village school because I wanted her to have the opportunity to learn from the local children, rather than be surrounded by ex-pats with intact families. There she was in Massachusetts, and on top of all her pain, she was worrying that she stuck out like a sore thumb at school because her mother was dead. Then she goes to rural Malawi, and at her new rural school, orphans are everywhere. Nearly every child has experienced the loss of a family member. It's only through her friendships with these kids that Clare gains the perspective she needs to thrive.
In terms of challenges I faced in writing about Clare's school experiences, there were certainly a few. I had visited about a dozen schools in Malawi. At each school, I observed classes, and I interviewed children, parents, teachers, and headmasters. Still, when it came time to write the story, I had a million questions: Who cleans the pit latrines? Who chops the grass? When do they announce the class ranks? And because I had visited more than a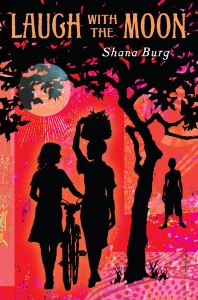 decade ago, I needed to be find out what, if anything, had changed in the schools since my visit and what remains the same today.
My Malawian research assistants Felicity Charity Mponda and Lovemore Nkhata were invaluable in answering all these questions based on their own experiences growing up in Malawi, and the experiences of their children who attended Malawian schools. I also interviewed Americans who recently taught in rural Malawian schools, as well as read blogs online and other articles I could find.
Did you have difficulty finding a publisher for a novel set in such a distant country?
When I sold my first novel, A Thousand Never Evers, I got a two-book deal. Once I finished writing A Thousand Never Evers, I wasn't sure what to write next. Then my awesome editor, Michelle Poploff at Delacorte Press, asked me the golden question: "What are you truly passionate about?" As soon as she asked me that, I knew the next book would be set in Malawi. I was passionate about sharing stories about the people I'd met there–people who are resourceful and resilient and manage to laugh despite the extreme poverty, people who taught me so much. Michelle immediately supported the idea, and provided incredible guidance in helping me shape the novel into what it is today.
What advice would you offer others seeking to write a novel for young readers that is set in a country in Africa?
First of all, I would say you need to go to that country and experience it. When you return, find people who are on the ground in the country you are writing about who, if possible, have internet access and are willing to help you. I couldn't have written Laugh with the Moon without my research assistants, as well as several other people who live and work there.
Shana Burg is the author of A Thousand Never Evers and Laugh with the Moon. You can follow her on Twitter @ShanaBurgWrites and on Facebook at www.facebook.com/ShanaBurgWrites.
The other dates of the blog tour are as follows:
7/17: Mr. Schu Reads
7/17: Sharp Read
7/20: Journey of a Bookseller
7/22: Nerdy Book Club
7/24: From the Mixed-Up Files of Middle Grade Authors
7/25: Read, Write, Reflect
7/26: The Musings of a Book Addict