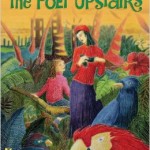 The theme that poetry is magic is readily captured in the glorious illustrations by painter Oscar Ortiz, who manages to synthesize the natural environment of a tropical island and the stern reality of urban brick and mortar. (The book won a Skipping Stones Honor Award in the Multicultural & International Books category).
The Poet Upstairs is text-heavy, so it makes a good read-aloud for pre and early readers. The strength in the text is its evocation of the rhythm of poetry, of dreams of transcendence. Juliana misses her first day of school due to illness, the day that a mysterious and exotic woman moves into the apartment upstairs. In her feverish delirium, Juliana can hear the poet's typewriter clacking, and the  rhythm lulls her into dreams of floating and flying beyond the confines of her city walls. (Both Juliana's mother and the poet are from "an island," as the origins are described.) Juliana tries to capture in a drawing what she has dreamed, slips the paper under the poet's door, and a real, though short, adventure begins. While the plot device of a young child meeting an inspirational adult is conventional, Juliana and the poet spend just one day together, transforming the grimness of their humble surroundings into rivers, mountains, sunshine.
Juliana does not see the poet again, but she doesn't need to, having found the conduit to a life in verse. The Poet Upstairs is full of great lines ("She missed being in the poem") and encourages the reader to find magic, escape, and ultimately elation in the rivers and winds of words of any language (in Juliana's case, both English and Spanish).
The Poet Upstairs is published by  Pinata Books, Arte Publico Press, and has 32 pages.