Zetta Elliott burst onto the children's publishing scene with a Lee & Low New Voices Award and the acclaimed 2008 picture book for older readers Bird, the moving story of a boy's close relationship with his troubled older brother. Since then, Zetta published two novels through Amazon Encore, the Internet giant's traditional publishing arm. Her young adult time travel A Wish After Midnight, came out in 2011 after first finding critical success (including a rave review from BookSlut and Chasing Ray's Colleen Mondor) as a self-published novel through CreateSpace. This novel was then followed by the middle grade urban fantasy Ship of Souls in 2012.
But Zetta is a gifted and outspoken author with a wide range and a passion for bringing her stories to young people who rarely see themselves in books. These include children of color, and those interested in history, science, and speculative fiction. She has been a leader in pushing publishers to support speculative fiction by authors of color, a campaign that is beginning to see some success. At the same time, this playwright, essayist, and novelist of biracial (Canadian and Afro-Caribbean) heritage has written in several categories and genres where traditional publishers have so far been reluctant to diversify their offerings.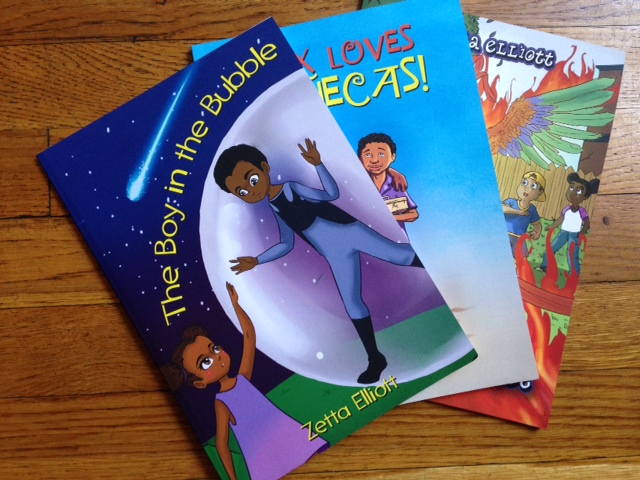 One of these is early reader/early middle grade. As a result, Zetta has moved to self-publish four titles in a large illustrated format—a hybrid of the traditional picture book and the chapter book for middle grade readers. The books have one or two illustrations per chapter. The books are The Boy in the Bubble, The Phoenix on Barkley Street, Max Loves Muñecas, and the forthcoming The Magic Mirror.
Although The Boy in the Bubble has been written for younger middle grade readers, the complexity of the story makes it a good choice for older children and adults. Zetta's experience as a playwright shows in this story that would be easy to adapt as a short play. Here, an "unusual girl" who lives alone under a rock meets a boy from outer space who lives in a bubble. The girl cannot touch the bubble and the boy cannot leave, but he shows her to appreciate all the other senses besides sight and observation. As she becomes more engaged with her surroundings, the girl begins to feel lonely. The boy, too, wants to escape, even though he may lose his life by doing so. The children's decisions and how their decisions change them make for much thought and discussion. This book may be easy to read, but it is not a simple story.
While The Boy in the Bubble may be characterized as pure fantasy, The Phoenix on Barkley Street combines a very real urban neighborhood with a mythological creature, the phoenix that is destroyed in a fire only to be reborn. This novel is also designed for early readers, though the characters are approaching their teens—a time when the temptations and potential for serious violence increases in troubled inner-city neighborhoods. Although the story is less complex and philosophical than The Boy in the Bubble, it is one that many young people will find familiar, as the children who try to turn a garbage-strewn lot into a safe place to play are pushed aside by local gang members (including an older brother) seeking to use the newly-cleared space as their headquarters.
Max Loves Muñecas is the only realistic novel among the three, a story within a story that connects a present-day boy, Max, fascinated by the artistry of a doll maker with the doll maker's life as an orphan in Honduras in the 1950s. After Pepe's grandmother dies, he is forced to wander the streets, where he meets a group of street kids—but remembering his grandmother's advice, he decides not to cast his lot with boys who "drift from place to place like a weed in the sea." His decision to seek a permanent home and job lead him to an elderly seamstress and doll maker who teaches him the craft, but when he accidentally breaks her sewing machine needle, he sees an opportunity to help the street boys while they, too, help him. Longer than The Boy in the Bubble and The Phoenix on Barkley Street, Max Loves Muñecas offers readers ages 8 to 12 a window into another time and place along with an inspiring example of paying forward the support one has been given by a stranger.
I applaud Zetta's initiative to bring out a solid trio of books that appeals to diverse readers and has the depth to generate valuable discussion among all young readers and their parents and teachers. These are not "more of the same" but fresh, imaginative writing that crosses both genres and age groups. Hopefully, these books will lead to more efforts by experienced authors to bring out quality work that has not yet found support within traditional channels.