APPLESAUCE by Klaas Verplancke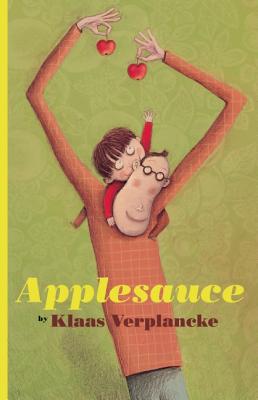 Dads get grumpy. Kids get ornery. Sometimes after hearing "No!" children stomp off to their rooms thinking that some OTHER Dad might be a much nicer Dad.   APPLESAUSE, a picture book by Klaas Verplancke, is funny and touching, and delightfully honest about father-child relationships. Words and pictures are just plain fun. They engage both young and old, and help us all share smiles and chuckles about the ups and downs of being a kid beginning to understand that a father is sometimes thunder and sometimes, sweet applesauce.
The child explains: My daddy has strong muscles, except in his belly. It's as soft as a pillow. He blows away the hurt on my knee and catches my dreams when I'm sleeping….   BUT
Other times Daddy's pillow gets tired, so tired that his ears can't hear me anymore."
Klaas Verplancke lives in Belgium and is an award-winning, acclaimed artist and author of many children's books. APPLESAUCE was published in 2010 but only translated and available in English this past year (Groundwood Books).  An IBBY "best" selection and best of all – delightfully funny about a young boy and his father – learning that anger doesn't last. Love and laughter bring us back together. Sometimes with the cozy smell of warm, sweet applesauce.  This book shows an honest, charming portrayal of the ups and downs of being a Papa and being a child.