Coe Booth has captivated readers and critics alike with her three gritty, fast paced novels of urban life in New York City: Tyrell, Kendra, and Bronxwood. This bard of the Bronx writes of tough times in the language of her teenage characters, drawing on the hip hop beats that prove to be Tyrell's salvation and the soundtrack of Kendra's life.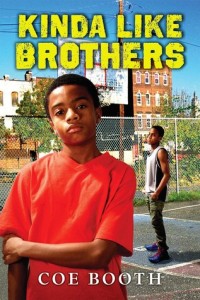 In Kinda Like Brothers (Scholastic, forthcoming August 26) Booth moves from young adult to middle grade and across the river to Newark, New Jersey to explore an 11-year-old boy's growing understanding of what makes a family. Jarrett's single mother has fostered babies for many years. He knows it's her job and that the babies will eventually leave and live with their parents or other relatives. Things become complicated, though, when baby Treasure comes with 12-year-old brother Kevon. Now Jarrett has to share his room, his friends, and his life. That life is especially complicated now because Jarrett is in summer school with the possibility of repeating sixth grade because he can barely read. He thinks he loves schoolmate Caprice but worries that she thinks he's stupid, and when Kevon impresses Caprice with his athletic ability—Jarrett is small for his age and suffers from asthma—Jarrett swears revenge. His efforts to humiliate Kevon provoke retaliation that escalates when he secretly tries to find Kevon's missing father.
Booth's debut middle grade effort doesn't feature the slangy, edgy voice of her YA titles, but in its place is an honest, heartfelt exploration of a boy who feels ignored and less than competent. His struggles in school will resonate with reluctant readers, and the conventional language, combined with short chapters and ample white space make this is perfect title for them. The adults are positive, sympathetic figures—from minor characters like Jarrett's summer school teacher and principal, to his mother and her boyfriend. Terrence. Terrence, who runs a "man talk" group for the boys at the community center, serves as Jarrett's go-to role model and as such can help young readers identify who may be a trusted mentor in their own lives. Kevon's troubled father is presented with compassion and understanding that can also play a positive role in helping young readers forgive and move beyond the trouble in their lives. Booth offers a subtle, nuanced look at some wider social issues that impact boys and men of color as well. One of the book's most memorable scenes is when Jarrett observes police performing a humiliating search on a college student volunteer at the community center, and Jarrett's best friend, Ennis, deals with the homophobia of his Jamaican relatives. This strong middle grade debut will keep readers thinking long after the last page is turned.