BOOKS ABOUT OUR NATURAL WORLD PLUS ENVIRONMENTAL RESPONSIBILITY:
Green Earth Book Award Winners
GREEN EARTH celebrated its 10th anniversary of the Green Earth Book Award last month events at the Read Green Festival. Part of this celebration included a donation of 10,000 environmental books to schools.
Each year Green Earth Book Awards are given to books in five categories: picture book, children's fiction and nonfiction, YA fiction and nonfiction.
Ian Kline, explains about the purpose of Green Earth,  "We've engaged thousands of students with books, outdoor classrooms, and even a student-designed nature trail. The impact is incredible – we've seen children of all ages embrace environmental responsibility through our programs."
The 2014 winners are:
These winning "eco-authors" led the Read Green Festival by visiting five schools in and around Washington DC. They talked with students about what each of us can do – regardless of age – to be environmental stewards. At the festival's closing, the authors worked with students to create an environmental time capsule.
Amy Marasco Newton, founder and president of  The Nature Generation said, "During the festival, a special magic begins when we bring our new winning eco-authors into the classroom — they make a deeper connection with the students and bring the message of stewardship alive."
Take a look at three of the 2014 winners, books for young readers; descriptions from the Nature Generation awards announcement:
Winner – Picture Book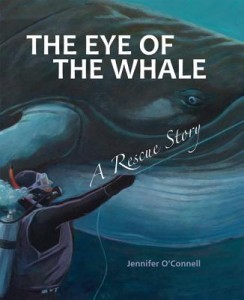 The Eye of the Whale – A Rescue Story, written and illustrated by Jennifer O'Connell (published by Tilbury House)
O'Connell describes the rescue of a humpback whale that was found tangled in lines from crab traps miles off the coast of San Francisco. A team to try to save the massive creature. What happened next provides a captivating ending to this unusual tale and will spark discussion of the whale's ability to experience and demonstrate emotions. O'Connell's attractive paintings–many of them full spreads, some with insets–show the rescue from above and below the ocean surface and the tiny size of the divers compared with that of the whale, which is shown from many perspectives. Recommended Age: 5 to 10
Winner – Children's Fiction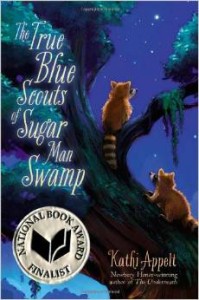 The True Blue Scouts of Sugar Man Swamp, written by Kathi Appelt (published by Simon & Schuster, Inc.)
Raccoon brothers Bingo and J'miah are the newest recruits of the Official Sugar Man Swamp Scouts. The opportunity to serve the Sugar Man—the massive creature who delights in delicious sugar cane and magnanimously rules over the swamp—is an honor, and a big responsibility  Twelve-year-old Chap Brayburn is not a member, but he loves the swamp something fierce, and he'll do anything to help protect it. And help is needed, because world-class alligator wrestler Jaeger Stitch wants to turn the  swamp into an Alligator World Wrestling Arena and Theme Park.  Newbery Honoree and National Book Award finalist.   Recommended Age: 8-12
Winner – Children's Nonfiction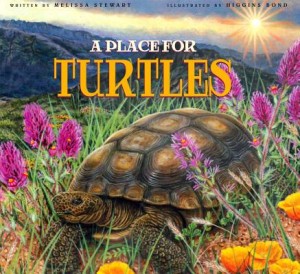 A Place for Turtles, written by Melissa Stewart and illustrated by Higgins Bond (published by Peachtree Publishers)
In simple yet informative language, A Place for Turtles introduces young readers to the ways human action or inaction can affect turtle populations and opens kids' minds to a wide range of environmental issues. Describing various examples, the text provides an intriguing look at turtles, at the ecosystems that support their survival, and at the efforts of some people to save them. At the end of the book, the author offers readers a list of things they can do to help protect these special creatures in their own communities. Recommended Age:  6-10