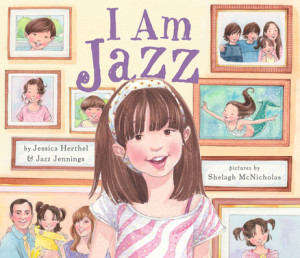 In recent years, we have seen a number of picture books with gender non-conforming characters or that challenge the typical gender roles generally seen in literature and toys for children. There have also been several self-published books for young children that included transgender characters. But with I am Jazz, by Jessica Herthel and Jazz Jennings, illustrations by Shelagh McNicholas (Dial Books For Young Readers, 2014), we have our first trade-published picture book with a defined transgender character.
In I am Jazz, thirteen-year-old co-author Jazz Jennings shares her real life experience of being born, as she says, with "a girl brain but a boy body." With simple, direct, and age-appropriate language, Jazz shares how she always knew she had a girl brain and liked colors, clothes, and activities that were seen as "girl stuff," but that her family was confused because they'd always thought of Jazz as a boy. Jazz corrected her mother when she called her a good boy, saying, "No, Mama. Good GIRL!" and shared her "girl thoughts" and "girl dreams" with her older sister. Jazz describes how when she was little, her parents let her wear her sister's dresses around the house, but that she had to put on her boy clothes when she went outside. Jazz poignantly says, "Pretending I was a boy felt like telling a lie." The book continues with showing how Jazz's parents took her to a doctor, where she first heard the word transgender, and how loving and supportive her parents and family were in allowing her to be herself. While the book, overall, shows how Jazz flourished once she was allowed to be her true self, it does, realistically, include instances which show that not everyone was as supportive as Jazz's family, and school and social interactions did sometimes involve teasing, confusion, or push back from adults. These instances provide context for her transition and offer an opportunity for discussion.
While Shelagh McNicholas' illustrations may feel a bit pastel-hued and almost sweet, they appear to realistically portray the world as Jazz viewed and experienced it. And the positive, largely happy images provide both a light touch for the subject matter and a visual reminder that Jazz is happy, fun, and proud, despite any bumps and hurdles along the way. I can't help but wish, however, that the book had included more photographs of Jazz herself, as my favorite images were the photographs of Jazz that accompanied the note that followed the text about the TransKids Purple Rainbow Foundation. Additionally, I was somewhat frustrated with how the early part of the book seemed to reinforce the gender binary, with almost cliché, defined "girl" and "boy" toys and activities. Like with the illustrations, however, on rereading I was reminded that this is Jazz, telling her story, as she experienced it, and I can imagine the gender binary that still seems to dominate our culture heavily affected her early life experiences.
Overall, I am Jazz is a groundbreaking book that effectively and positively opens a window into the lives of transgender children and their families, and gives those children a mirror that shows a confident, smiling, happy girl to be their friend.