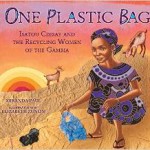 I always thought plastic grocery bags were a terrible idea, but who was listening to me during their advent in the early 1980s? They are cheap to manufacture, cheaper than paper sacks, and that has always trumped environmental concerns. Here we are decades later and movements to ban the use of plastic bags are sputtering across the country. But the ecological damage has been done, and not just in consumption-heavy America.
Isatou is a Gambian girl who starts to notice the menace of plastic bags, how they make litter even uglier, and how they're impossible to get rid of once their single use is complete. As a young woman and mother, she becomes aware that the issue has progressed to crisis as the bags have now started being ingested by goats who die from organ strangulation as a result. Isatou brilliantly invents a small step against the problem by ingeniously figuring out how to cut the bags into strips and use them for crocheting very unique (and waterproof) purses, which soon catch on with the local women.
It won't save the planet or even the local landscape, but the book rejoices in the theme of taking small and determined measures in the face of what appeared to have been the impossible.
Illustrated by Elizabeth Zunon, this book is exceptional in its textures and colors. While early readers can handle it easily (and may like the immediacy of the use of present tense), pre-readers will be examining it closely as well.
One Plastic Bag (32 pages) by Miranda Paul is being published by Millbrook Press in February.