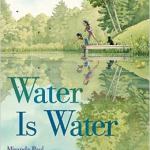 Recently blogger Peter Marino reviewed Miranda Paul's One Plastic Bag,  a picture book story of one woman's creative efforts to clean up her environment while also creating a livelihood for women in her village. Miranda's interest in the environment and other social justice issues goes well beyond this picture book. In fact Miranda's next book, Water is Water, another poetic story of the environment focusing on water cycles, is due out in May 2015.
Miranda has been an avid recycler since elementary school, when she won a contest by transforming a discarded cereal box into a beautiful holiday ornament. She still loves rummaging for treasures but now spends most of her time teaching and writing. Over the past decade, Miranda has traveled to the Gambia as a volunteer teacher, a fair‐trade and literacy advocate, a freelance journalist, and more. Miranda lives in Green Bay, Wisconsin, with one husband, two kids, ten bookcases, and a hundred new ideas. Find her online at www.mirandapaul.com and find out more about this book at www.oneplasticbag.com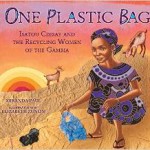 Where did you learn about Isatou's story?
I was actually in the Gambia volunteering as a teacher when someone handed me a purse made out of plastic bags. I was intrigued, because one of the hardest things to look at every day was the stinking garbage piled up everywhere in the village where I taught. I vowed to meet Isatou, but didn't get to do so until my third trip to the Gambia, a few years later.
What elements of her story did you think would appeal to young children?
Children have amazing ideas, and the energy to pursue them. They also have fears and doubts (especially as they get older) that people will laugh at them or that their ideas won't work. Kids possess an amazing sense of justice and a hope that good will prevail. All of these things and more are part of Isatou's real story.
PB writers are often told that they should stay away from adult characters. What were the reasons you chose to write this as a picture book with an adult character?
It's hard for me to say I "chose" to write this with an adult character, since it's about a real woman and I had to remain true to her story's timeline as it happened. I chose to begin the story in the decade before she began the project in order to show how plastic trash built up in her village as she grew older. Picture book writers are often told that "they should" do this or that. If authors always adhered to the rules, many great stories—and some of my favorite books—would never have been published.
What are your goals for readers of this book? (Another way I would phrase this is What is the author's purpose in bringing this book out into the world?)
My purpose for bringing this book out in the world is pretty much that I couldn't not write it. Isatou is an amazing person—which I know in much greater depth than this book conveys.
My goals as a children's writer are to inspire, entertain, and broaden horizons. I hope this book does all three for readers, but the third goal is really key with this book. (I'm sure your readers are aware of the statistics on diversity in children's books.)
The environment is important in this picture book and I see that you've got another picture book coming out in May that focuses on Water. Can you tell readers a bit about that book?
Living without access to clean, running water has given me a new appreciation for it. I'd had the idea for Water is Water kicking around in my head for many months before I got it down on paper. The book is different from One Plastic Bag in that it's a poem—a sparse text that follows two children as water moves and changes throughout the course of a year. Jason Chin illustrated it (he even illustrated the back matter, which I am super excited about!). It's a stunning book and reaches a wide audience as it's appropriate for pre-K children as well as upper elementary grades. Water is Water serves as both a snuggle-up bedtime book at home and something to be used in a library or classroom.
Were you conscious of environmental issues before tackling these topics?
My husband was an Environmental Science major in college and I originally entered college to study Aquatic Biology, so yes, you could say that. 🙂
What is your philosophy of the environment?
I have a deep respect for nature and our environment. Everything we do has some level of impact on animals, the land, and other people. One of my beliefs centers around reducing that impact. As a family, we try to fix or repurpose things rather than buying new. (It helps that my husband is amazing in that regard.) We avoid using anything "disposable" as much as possible. We also live just up the hill from a protected forest and creek, and it's important to me that our kids learn to love and respect nature and realize that having a good time doesn't need to involve a screen or gadget. I will readily admit that I'm far from perfect in aligning my philosophy into every decision I make, but it's something we're trying to be conscious about as a household.
What do you do in your own community to improve environmental issues?
My husband and I have been advocates and supporters of green initiatives and/or businesses locally and beyond for years. We used to run an eco-friendly fair trade store, and I sometimes volunteer at a local Wildlife Sanctuary. I visit schools often and talk about some of the environmental issues around the world and how children or teens can make choices that will have less impact on the environment. Closer to home, we have a butterfly/bee garden, a rain barrel, a compost barrel, and a vegetable garden. Encouraging others to start with small steps or leading by example can be powerful in terms of community progress.
What are you reading now?
To prepare for a panel I'm introducing at BookCon in May, I'm about to crack open some more works by diverse science fiction authors such as Kameron Hurley, Daniel José Older, Ken Liu and Nnedi Okorafor.
 What are you working on now?
I just finished up some back matter for a book that comes out early next year (2016) called Helping Hands (also from Lerner/Millbrook). It's a book/game hybrid that introduces many diverse career possibilities. I'm also about to polish up a fiction picture book that won't be out until 2017.