Wherever it occurs, the process of gentrification inspires heated debate. On the one hand, new residents fix up crumbling buildings and bring new businesses to the neighborhood. On the other, these residents raise housing prices and displace longtime residents and the social networks they have created. Often there are racial differences between the new residents and the old ones. More often, the differences are ones of class.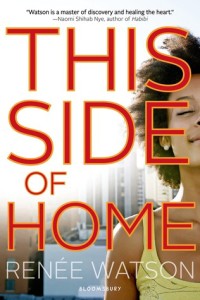 Few titles for young readers address the issues of race and class in as open a way as Renee Watson's This Side of Home, set in a gentrifying neighborhood of her hometown of Portland, Oregon. High school seniors, and identical twins, Maya and Nikki Younger have different views of the well-to-do white residents of their neighborhood. Maya, the narrator, resents the people who pushed her neighbor and best friend, Essence, to an apartment nearly an hour away, and who have turned the fondly remembered places of her childhood into coffee bars and organic food stores. Nikki likes the clean, safe streets and new stores. But Watson approaches this topic with complexity. The Youngers are as middle class as the hipsters who have moved into their neighborhood, even though many of their friends in the economically diverse African-American neighborhood struggle to make ends meet. And while Nikki befriends the white girl who moves into Essence's old home, Maya goes one step further—she dates that girl's twin brother.
Maya finds unexpected allies and antagonists as well in her campaign to raise awareness of the African-American people who built the neighborhood. While many of her white classmates take her side, her high school's new black principal seeks to replace the traditional Black History Month assembly with a "diversity" assembly so that the new white students will not feel uncomfortable. This change leads the students to some frank conversations about race and class. Watson weaves these into the story in a generally seamless manner, and short chapters (2-4 pages each) prevent the conversations from going on so long that they stall the action and forward movement.
This Side of Home is a story for our times, about family and community bonds tested when wealthy outsiders choose to move to ethnic enclaves and working-class neighborhoods. It is also a story that resonates in many places in the United States and around the world. I recently visited Portuguese friends who live in Porto—the city where one member of the couple grew up and where her family still lives. She was telling me about the hipsters from Sweden who have moved to the city and fixed up the abandoned and crumbling waterfront houses. Her husband appreciates the new electronic music venues, but both of them have been affected by the rising costs of housing and don't know how much longer they'll be able to stay. From Brooklyn to Berlin, from Portland to Porto, these are dilemmas that affect millions of people's lives, and Watson captures those dilemmas in her appealing and thought-provoking novel.