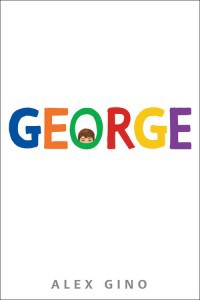 "It's true, and I have to say what's true," says Charlotte in Chapter 5 of E.B. White's Charlotte's Web. One can imagine George, the 10-year-old main character of Alex Gino's debut middle grade novel George (Scholastic Press, August 2015) saying something very similar.
To everyone around her, George is a boy. But George knows that she is a girl, a girl who would like to wear girl's clothes and play with the girls, and be called Melissa.  And it is becoming increasingly painful to keep that knowledge to herself, especially in the very gendered environment of grade school.  As George herself says, it's hard pretending to be a boy. When George's fourth-grade class is to put on a play version of Charlotte's Web, she is desperate to play Charlotte – not just because of her adoration for the wise and compassionate spider, but because if George could play Charlotte, maybe everyone, and most especially her mother, would see who she really is. But when her teacher refuses to let her audition for the part, all looks lost. Until her best friend Kelly gets the part, and hatches a plan.
While the device of the school play has been done before, in George it is put to perfect use, emphasizing George's hopes and dreams, and allowing her a safe vehicle for self-expression.  Through well-fleshed out characters, George explores how even well-intentioned adults can be insensitive to the ways in which a gender nonconforming child might feel about themself and the larger world, and allows for surprisingly positive responses from some characters, while also showing how some may initially react with confusion, discomfort, and fear, even when they love the child.  The novel does not gloss over how difficult those first steps toward self-identifying can be for a gender nonconforming child, but, even in its honesty, it offers hope. Positive reinforcement for how the child needs those around her to react is especially modeled through the reactions of George's best friend Kelly, an insightful Principal, and, surprisingly, George's tougher older brother.
Gino's direct and simple writing provides age-appropriate insights and clarity for what George thinks and feels and wants. And their choice to tell George's tale in third person emphasizes in a really clear and striking way how it feels to be George, knowing she is a girl and constantly being reminded that her body is that of a boy.  The narrative use of she and her and hers in referring to George is an almost visual demonstration of how transgender and gender nonconforming kids experience the world, and it does so without tortured affectations or overly scholarly or after-school special explanations.
While George's efforts to be seen and to become her true self dominate the plot, George also includes many of the other elements common to middle grade fiction, such as dealing with parents, siblings, and school bullies, and navigating friendships during these constantly-changing years.
Overall, George is more than a much-needed addition to the lgbtq+ books for younger readers.  It is also a hopeful, joyful celebration of what it means to want to be true to yourself. Anyone who has ever felt different or misunderstood will feel for George and root for her. And, in its own way, George is a very special tribute to the simple and brilliant honesty of Charlotte's Web.