In an acclaimed piece on reviewers and diversity, author Malinda Lo addressed some of the familiar criticisms leveled against diverse books by reveiwers who just don't "get it." Most common criticism #2 was "so many (too many?) issues." She saw this particularly in the context of LGBTQ characters of color, as if diverse characters were only allowed one aspect of diversity per book.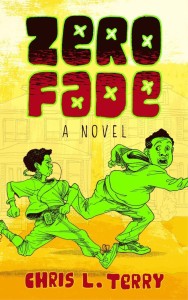 Intersectionality—the existence of two or more minority identities—is a reality, however. In Zero Fade (2013), another outstanding YA novel from new small press Curbside Splendor, author Chris L. Terry explores 13-year-old Kevin's coming of age in Richmond, Virginia in 1994. Kevin, who is African American, worries about his weight and lack of athletic ability and how it will affect his chances of Aisha going out with him, as opposed to the smoother but not so nice Demetric. With his father absent, his role model is his Uncle Paul—Steady Paul, who dresses up nicely every day for his job as a museum guard but who surprisingly has never had a girlfriend. Paul is gay, and stresses about telling Kevin, as readers see in the occasional chapter from Paul's point of view.
Terry maintains the suspense through the alternating point of view, as readers know things that Kevin doesn't. He gives young readers a glimpse into the adult world in a way that's accessible and engaging. The language is realistic and Kevin's feelings honest and uncensored. The author grew up in this era and the details are pitch-perfect—the lines memorized from The Simpsons and The Mask and family fights over Eddie Murphy's raunchy comedy and anti-gay slurs.
Zero Fade is one of the titles included in the We're the People 2015 Summer Reading List. Classified as historical fiction because of its increasingly popular 1990s timeframe, it shows us how far we've come and how far we still have to go.