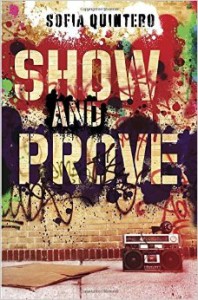 With the increasing gentrification of New York City, it's sometimes hard to imagine the early 1980s in the city, when public officials, both local and national, wrote off huge swaths of the city populated by people of color. News and popular media stereotyped and dehumanized the people of northern Brooklyn, northern Manhattan, and the South Bronx, and unless you were there (as I was), you didn't know that real people with real families walked these streets and inhabited these apartment buildings.
Set in the South Bronx in the summer of 1983, Sofia Quintero's new novel Show and Prove captures this time through the voices of two 17-year-old boys – old friends who see circumstances pulling them apart. Raymond, known as Smiles, has just lost his mother, a social worker and strong force in the community, to the complications of sickle cell anemia. Smiles is going into his senior year at a fancy prep school downtown where he has received a scholarship but, as the only African-American student, doesn't feel he fits in. Left behind in a rowdy public school is his best friend Willie, who calls himself Nike and dreams of stardom as a breakdancer. The local gang, which has already drawn several of their old friends, has set its sights on Nike, but he believes in following the rules and staying out of trouble. It bothers him that his single mother collects welfare, as much as his father's abandoning the family back in Puerto Rico. Smiles, on the other hand, is attracted by the radical rhetoric of the Five Percent Nation of Islam and charismatic local leader Qusay, an ex-convict once known as Kevin.
The girls at the summer camp where Smiles and Nike work complicate their relationship, particularly Cookie Camacho, who beats Smiles out for the senior counselor position. He accuses the Puerto Rican director of favoritism. Nike is attracted to new girl Sara, who introduces him to the world and its conflicts in a way that he had never imagined. Both boys have their preconceived ideas challenged, along with their confidence in themselves. Both lose their dreams and must find a way to regroup and move forward. Above all, this is a story of friendship and community, how in the most neglected places people can come together to help each other and make better lives.