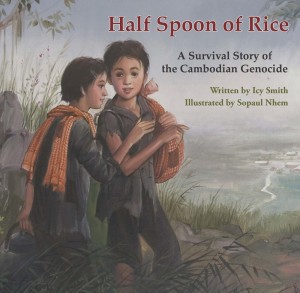 The "We Need Diverse Books" campaign advocates for profoundly diversifying the characters represented in children's books published in the U.S., just as the U.S. culture itself is profoundly diverse. I share that mission with many and it combines, for me, with the words that a young Cambodian-American just spoke to me. Sopheap Theam is a filmmaker who is working with me on a book trailer. I wanted to recognize her work in the trailer and Sopheap said more than anything she wanted to advocate for Cambodians and all refugees to tell their own stories. To do this, my work begins, I think, with a search to find books already created by Cambodian people. I want to tell you about a recent book, Half Spoon of Rice written by Icy Smith and illustrated by Sopaul Nhem.   This is an illustrated account of the years of the Cambodian genocide.
What stands out about the book to me are Sopaul Nhem's paintings. They are the power. A note in the book states that the artist of the full-page oil paintings studied at the Royal University of Fine Arts in Phnom Penh and that his work is inspired by his father, a survivor of the Pol Pot regime.   Nhem seems to be working to replicate the realism of the scenes as his father remembers. They don't soften the story. They show the suffering and cruelty, the starvation, the landscape when bombs fall and also deep friendship and parent's love of their children. I searched for more of the work of Sopaul Nhem but found none. I hope he has books in progress and they will come to us soon.
Icy Smith includes a map, documentary photos, an extensive Author's Note with historical facts of the war. She defines the Khmer Rouge's vision of a restructured peasant nation: "Western culture, city life, money, religion, family, education, and all foreign influences were abolished." The book summarizes the years of the Khmer Rouge regime through the eyes of a young boy, Nat. It begins with the joy of the Cambodian New Year in Phnom Penh and the moment when his family hears a bullhorn and a voice commanding, "Leave immediately." He is one of the millions forced into the long march from the city into forced labor and a ration of "half spoon of rice."This book is for older children.