FREEDOM'S PRICE   the Dred Scott decision
The name Dred Scott name is familiar to most of us but what exactly was the decision and why was it so important at the time in pre-Civil War America? FREEDOM'S PRICE by co-authors Michaela MacColl and Rosemary Nichols is a middle-grade historical novel that brings to life the people and conflicts of this era.
St. Louis is the setting, a city brimming with life, death, and danger. Free Blacks and slaves, Yankees and southerner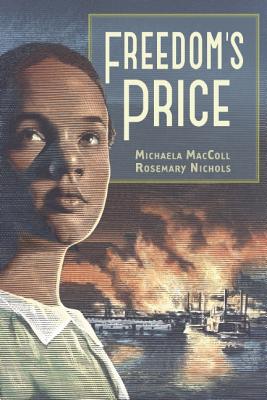 s, were all part of the social fabric of this bustling Mississippi River city, key to trade and commerce as well as the center of conflict between slavers and abolitionists.
Maccoll and Nichols have created a riveting, page-turner of a story in FREEDOM'S PRICE. The main character, Eliza Scott, Dred Scott's daughter, is like most eleven-year-olds – eager to grow up, test her independence, and go after her own dreams and hopes – and friendships. But Eliza has to cope with the reality of living in the city jail for months upon months as her family's legal battle for freedom continues. Eliza is harassed by slave catchers, threatened with the spread of cholera and then nearly lost in the great St. Louis fire. What a story – and all the facts true to history. The Dred Scott decision – which took over eleven years – so angered abolitionists that this historical event is considered one of the key reasons for the outbreak of the American Civil War.
I recommend this book to anyone who likes a great story and enjoys a closer, more personal look at history.