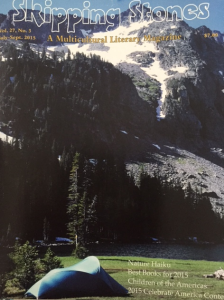 For 27 years the non-profit multicultural children's magazine Skipping Stones has offered young readers a journey around the world without their ever having to board an airplane. Founded in 1988 by educator Arun Toke, the quarterly magazine offers articles for children from the elementary level and up on the lives of people in diverse lands, environmental sustainability, and social action. Each issue features essays, poems, stories and art by children and teenagers living in the United States and around the world, and the September-October issue presents the winners of the magazine's annual youth writing and art contests. The magazine also features articles, poems, stories, artwork, and photography by adults who write for children, many of whom live, or have lived, in Latin America, Africa, Asia, and the Pacific.
Every summer issue presents the winners of the prestigious Skipping Stones Honor Awards. While each issue contains a Bookshelf with reviews of recommended books, videos, and teaching resources, the Honor Awards present the best of the best in the categories of Multicultural & International Books, Nature & Ecology Books, and Teaching Resources. These are the 2015 winners; for reviews of the books, please visit the Skipping Stones website, www.skippingstones.org.
Multicultural & International Books:
Bertrand, Diane Gonzales. Cecilia and Miguel Are Best Friends / Cecilia y Miguel son mejores amigos. Illus. by Thelma Muraida. Piñata Books. Ages 4-7.
Charleyboy, Lisa and Mary Beth Leatherdale, eds. Dreaming in Indian: Contemporary Native American Voices. Annick Press. Ages 12 and up.
Cooke, Trish. Look Back! Illus. by Caroline Binch. Crocodile Books/Interlink. Ages 4-8.
Dillon, Leo and Diane. If Kids Ran the World. Scholastic. Ages 4-8.
Fitzgerald, Michael, ed. Children of the Tipi: Life in Buffalo Days. Wisdom Tales Press. Ages 4-8.
Gil, Lydia. Letters from Heaven / Cartas del cielo. Piñata Books. Ages 4-8.
Gray, Nick and Laura Scandiffio. Escape from Tibet. Annick Press. Ages 11-15.
Hartsough, David. Waging Peace: Global Adventures of a Lifelong Activist. PM Press. Ages 14 and up.
Hoffman, Diana Lynne. Lighting the Earty. Illus. by Karen Brough. EcoJustice Press. Ages 5-10.
Jain, Manoj. Mahavira: The Hero of Nonviolence. Illus. by Demi. Wisdom Tales Press. Ages 6-9.
Jordan-Fenton, Christy and Margaret Pokiak-Fenton. Not My Girl. Illus. by Gabrielle Grimard. Annick Press. Ages 5-9.
Jules, Jacqueline. Never Say a Mean Word Again: A Tale from Medieval Spain. Illus. by Durga Yael Bernhard. Wisdom Tales Press. Ages 5-9.
Quintero, Isabel. Gabi, a Girl in Pieces. Cinco Puntos Press. Ages 14 and up.
Smith, Icy. Mystery of the Giant Masks of Sanxingdui. Illus. by Gayle Garner Roski. East West Discovery Press. Ages 7-10.
Stratford, Susanna. Mama Yoga and the Story of Namaste. Illus. by Alex Langenstein. Mama Yoga's Kid. Ages 5-9.
Weaver, Lisa. Swords to Plowshares: The Creation of John P. Klassen's Mennonite Central Committee. Illus. by Amanda Huston. www.bluffton.edu/lionlamb. Ages 8-12.
Wiles, Deborah. Revolution. Scholastic. Ages 12 and up.
Yee, Paul. Chinese Fairy Tale Feasts: A Literary Cookbook. Illus. by Shaoli Wang. Recipes by Judy Chan. Crocodile Books/Interlink. Ages 10 and up.
Yoo, Paula. Twenty-Two Cents: Muhammad Yunus and the Village Bank. Illus. by J. Akib. Lee & Low. Ages 6-9.
Nature & Ecology Books:
Bang, Molly and Penny Chisholm. Buried Sunlight: How Fossil Fuels Have Changed the Earth. Scholastic. Ages 4-9.
Erickson, Paul. The Pier at the End of the World. Illus. with photos by Andrew Martinez. Tilbury House. Ages 8-12.
Kleiner, Gregg. Please Don't Paint Our Planet Pink! A Story for Children and Their Adults. Illus. by L. Thompson. Ages 6-12.
Kutner, Laura and Suzanne Slade. The Soda Bottle School: A True Story of Recycling, Teamwork, and One Crazy Idea. Illus. by Aileen Darragh. Tilbury House. Ages 6-12.
Lorbiecki, Marybeth. The Prairie That Nature Build. Illus. by Cathy Morrison. Dawn Publications. Ages 4-9.
Shaw, Daniel. Southwest Aquatic Habitats: On the Trail of Fish in a Desert. University of New Mexico Press. Ages 9-13.
Teaching Resources:
14: Dred Scott, Wong Kim Ark & Vanessa Lopez. Directed by Anne Galisky. Documentary. 67 minutes. www.14themovie.com.
Arnett, Robert. India Unveiled: Spirit, Tradition, People. Atman Press.
Bigelow, Bill and Tim Swineheart, eds. A People's Curriculum for the Earth. New Day Rethinking Schools.
Nieto, Sonia. Finding Joy in Teaching Students of Diverse Backgrounds: Culturally Responsive and Socially Just Practices in U.S. Classrooms. Heinemann.
School's Out: Lessons from a Forest Kindergarten. Directed by Lisa Molomot. Produced by Rona Richter. Documentary. 36 minutes. Bullfrog Films.