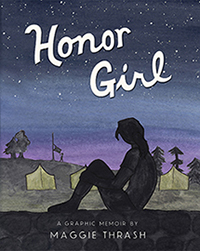 Every so often I read an article or hear someone argue that lgbtq+ literature for teens needs to move beyond coming out and coming of age stories. I disagree. Of course we need more stories of all kinds featuring lgbtq+ characters, and especially those concerned with topics other than coming out. But as long as lgbtq+ kids and teens still go through the coming out process, we will continue to need stories about all of the stages in that process, including realization, acceptance, and coming out. Honor Girl (Candlewick Press, September 2015), a new graphic memoir by Maggie Thrash, is a wonderful and welcome addition.
Set in 2000, Thrash recounts her summer at a Southern camp for girls, complete with daily prayer, vague civil war reenactment exercises, and the traditional activities of camp. As the memoir begins, Thrash seems disaffected with the rhythms and traditions at camp, and distant from many of her fellow campers. But when she trudges up to the rifle range, and unexpectedly excels at shooting, she finds herself in a competition with the camp's top shooter to see who can obtain her Distinguished Expert certification first. As Thrash pulls ahead, the competition causes tension and some bullying behavior between Thrash, her rival Libby, and some of Libby's friends, but for the most part this is a memoir devoid of the cliché mean-girl nastiness so common to stories about groups of adolescent girls. On the contrary, this is as much a memoir about friendship — and how quickly friendships are made and change in the closed environment of a summer camp — as it is one of sexual awakening.
At the heart of the memoir, though, is Thrash's sexual awakening, sparked by her interactions with Erin, an older, cool camp counselor. At turns awkward and sweet, Thrash recounts the moments of interest and insecurity as she struggles to figure out how she feels, at the same time she tries to decipher if Erin is actually interested in her romantically. The budding crush is tender and painful in all the ways first crushes are, and Thrash nails the confusion of a fifteen-year-old trying to read the intentions and interest of an older girl. And because the reader is solidly in Thrash's fifteen-year-old point of view, Erin's interest is somewhat obscured and confusing. While the conclusion may disappoint readers hoping for romantic fulfillment, Erin's distance and her own apparent confusion both feel organic and real, and the eventual end of the tenuous relationship is both poignant and seemingly inevitable.
Thrash deftly captures the fear and confusion of discovery that accompanies the first steps toward coming out, even to one's self, and then the surprising acceptance and encouragement of friends. Many of the adults and older counselors who become aware of Thrash's sexuality or suspect a growing attachment between Thrash and Erin attempt to discourage Thrash, both from pursuing anything with Erin and with coming out at camp. While readers may wish for more supportive reactions, focused more on Thrash's comfort than the other campers or the camp's reputation, this is a memoir, and their reactions feel organic to the place and time of the story.
Thrash includes the sense memories of that summer, like her obsession with a certain brooding member of a boy band and the newest Harry Potter book making the rounds at camp. But in many ways the story feels fresh and timeless, especially because of the time-capsule quality of summer camp.
While the black and white art in the ARC made the characters somewhat difficult to differentiate, the addition of color in the published version both helps differentiate the characters and enhances the enjoyment of the simple art.
So many adolescent readers will relate to the experience of summer camp, to the types of friendships that grow within the confines of camp over several summers. Others will relate to those first crushes, and the frustration of trying to figure out if your feelings are reciprocated, and if they are, when and how to act. And still other readers will recognize themselves in Thrash's growth over one summer, which leaves her a different person, forever changed, when she returns home. And for many readers, Thrash's story may offer encouragement, comfort, solace, or even rueful smiles of their own first steps toward romance.