Dig Too Deep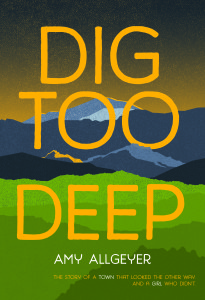 Written by Amy Allgeyer
Reviewed by Linda Boyden
Seventeen year old, Liberty Briscoe believes two things: she will never cry and will only refer to her mother, Jamie Briscoe, as MFM, my former mother. Jamie has spent her life protesting one cause after another trying to relieve the suffering of others, but leaving her daughter on her own. Liberty paid the bills, cooked the meals, ate them alone, and sometimes went weeks without even seeing her MFM. After a protest results in a bombing incident, Jamie is arrested. Liberty discovers her MFM has used her college fund to pay the lawyer's retainer. With Jamie now in prison and no income, Liberty must leave her private school near Washington D.C., ditch her hopes of applying to Georgetown University, and travel by bus to her granny, Kat's home in eastern Kentucky, in the middle of coal mining country.
Though she had spent most of her childhood in the town of Ebbotsville and loves Granny, Liberty is disturbed by the unusual change in the tap water: it's not rusty but of a bright orange hue. Worse, when she climbs the ridge behind Granny's house, Liberty discovers Tanner Peak is missing: the entire mountaintop now lies on the valley floor near a pond of sludgy water in shades of brown and electric green. No one at her new high school, Plurd High, or in town that she speaks to seems openly worried because Peabody Mining Company, Ebbotsville's main employer, has had the water tested and the results appear to be acceptable.
Concerned, Liberty researches mountaintop removal mining and discovers many disturbing statistics: this radical type of mining often results in higher levels of birth defects, cancer clusters, and high mortality rates. Granny's "itty bitty cold" has become one of those statistics. Despite threats, Liberty digs in deep to bring justice to her hometown, and in the process uncovers a common bond between herself and MFM. This debut novel not only has huge teen appeal––spot-on humor, relationship drama, bucking the system––but is an important read for young people of today.