Translated fiction for teen readers is not easy to find. Despite the recent success of adult titles by Elena Ferrante, Steig Larsson, Roberto Bolaño, Haruki Murikami, and others, and the growing number of acclaimed picture books from other countries, middle grade and young adult novels in translation haven't yet received their due. This oversight is particularly troubling given that most high school social studies curricula feature a year or two of global studies, any person who isn't Native American has roots in another country, and many teens travel or study abroad in high school or college. A mandatory 100-level college course should not be someone's first exposure to international literature.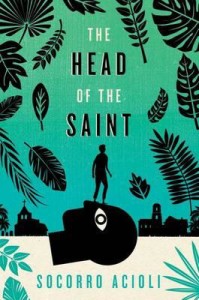 Thus, I was thrilled to see a major house, Delacorte, publish Brazilian YA author Socorro Acioli's novel The Head of the Saint, translated by Daniel Hahn. (The book, with Hahn's translation, was first published in the UK in 2014; as a recent article in the Guardian points out, translations now sell better in the UK than literary novels in English.)
The Head of the Saint begins with 15-year-old Samuel's long and exhausting pilgrimage from his hometown in northeastern Brazil, where his mother has just died, to the town of Candeia, where his father and grandmother supposedly live. He travels in pursuit of three tasks his mother assigned him on her deathbed. But Candeia is a cursed town, ever since the residents attempted to build a statue to their patron saint, Saint Anthony, and because of a construction error the head could not be attached to the body. Samuel's grandmother chases him from her home and tells him to hide out in the head. There, he meets 13-year-old Francisco sneaking away to read pornographic magazines. He blackmails Francisco into helping him, and the two become friends and collaborators in an enterprise to revive the town.
While living in the head, Samuel hears voices—a woman singing, women praying to find love. He and Francisco set up a meeting between one young woman and the local doctor that leads to marriage, and then scores of desperate women arrive in Candeia looking for similar magic. The town begins to recover, but secrets are revealed that put Samuel in mortal danger. His promise to his mother involves even more danger, but it may also be the thing that saves him.
Readers and writers of magic realism will find inspiration in this exemplary work by Acioli, who wrote The Head of the Saint under the mentorship of Nobel laureate Gabriel García Márquez. Translator Hahn captures the lyrical, dreamlike omniscient (though mostly focused on Samuel) narrative, and readers of the U.S. edition will not suspect that he is British or the novel was first published in the U.K. As in other magic realist fiction from Latin America, Acioli explores the official corruption and repression, environmental degradation, and individual malice—things that appear unbelievable but regularly happen in countries and communities all over the world. Acioli's vivid descriptions bring to life the lush vegetation invading the ruined community, the crumbling mansions of a once-prosperous town, the remaining young residents clinging to life and hope in the face of death. Brazil's complex racial heritages and religious traditions, intertwined with Portugal and Cape Verde, play are central to the story as well. Acioli weaves all these themes and motifs into an organic whole, showing us that those who know a place best are the ones who live there.