"Stolen Stash: A Billie B. Mystery"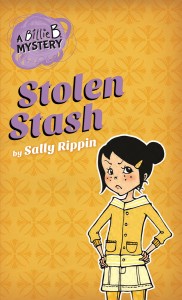 By Sally Rippon and Aki Fukuoka
Reviewed by Linda Boyden
Author Rippon's early reader series portrays the day-to-day drama inherent in elementary schools. The spunky main character, Billie Brown, her best friend, Jack, and classmates, Mika and Alex, make up the SMC: Secret Mystery Club, four friends devoted to finding problems and fixing them.
In "Stolen Stash" Mrs. Singh, the principal, sadly reports that $50.00 has been stolen from the cash box in her office, possibly by a student. Immediately, Billie sees this as an opportunity for the SMC to help solve a genuine crime. Sure the SMC has solved cases involving secret codes, possum thieves, and an almost haunted house, but this will require real detective work.
Right away, Alex picks a fight, "What we do is games. This is serious." Upset, Billie suggests that if Alex thinks the SMC is babyish then he should leave. So he does. Sides are chosen and friendships are threatened. Will this mess break up the SMC? Can it survive a huge case of hurt feelings? Billie and Jack eventually get to the bottom of the problem and the truth comes out in the end.
All four friends and readers, too, will discover Rippon's premise: true friends stand up for each other. Fukuoka's lively illustrations enhance this energetic story.