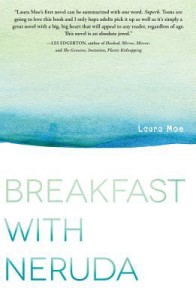 Growing inequality and its negative political and social consequences has become a topic of national debate, but the theme rarely appears in young adult fiction. Despite the unaffordability of college, the unsustainability of student debt, and a knowledge-based economy that requires a college education to get ahead, YA novels mostly exist in a classless bubble, at far remove from economic forces that impact readers' daily lives. It's a rare novel that addresses the real challenges faced by working-class teens, and many of the novels that do, such as Lauren Myracle's pioneering New Adult romance The Infinite Moment of Us, do so through a romance across class lines.
Laura Moe's debut YA novel Breakfast With Neruda fits squarely within the cross-class romance genre. Eighteen-year-old Michael Flynn must spend the summer before his repeated senior year cleaning the school, the result of a failed bombing of his former best friend's car in a dispute over a girl. Michael is living in his own car after fleeing the townhouse of his mother, a hoarder, and he feels guilty that his 15-year-old half-sister must still live there.
Michael fulfills his community service alongside Shelly, a well-to-do former cheerleader with her own secrets. He doesn't understand why Shelly is in trouble, or what could have gone wrong in her seemingly perfect family to lead her to three months of penance and a repeated senior year. And the rumors fly. Michael's former best friend warns him that Shelly is a criminal and a drug addict. Her former friends shun her. Michael tries to get at Shelly's truth while hiding his own, but when he finds himself falling in love with her, he makes himself vulnerable.
Compelling, sympathetic characters make this debut a novel to savor. Michael and Shelly are young people to root for because their flaws are real and yet they struggle to do the right thing. Moe presents Michael's troubled mother with sensitivity and honesty, portraying her hoarding as a mental illness with no easy solutions. As Michael and Shelly learn how his mother was exploited by a wealthy classmate because of her poverty and emotional vulnerability, they come to recognize both society's unfairness and their need to be honest and fair with each other. Like other cross-class romances, Breakfast With Neruda highlights the value of individual gestures of charity and compassion, but those who benefit—Michael and his half-sister—don't have to prove their worthiness by being brilliant or perfect. They just have to be human.