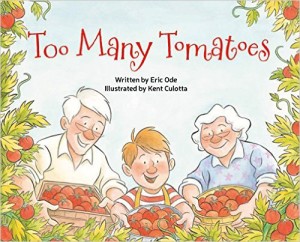 "Too Many Tomatoes"
Written by Eric Ode
Illustrated by Kent Culotta
Every summer, gardens explode with vegetables of all varieties especially tomatoes. In Ode and Culotta's newest collaboration, they use this theme to take readers on a fun romp through the world of gardening.
A young boy helps his grandparents in their garden that is bursting with fruits and vegetables. While bees buzz from blossom to blossom, they stop at the tomato patch and can't believe their eyes. Grandpa had started it with one small packet of seeds and this year, every single one sprouted: tomato after tomato after tomato! The family decides to share their tomato abundance with friends and neighbors, but save enough for many happy home-cooked meals.
Through lively text and engaging illustrations readers will not only laugh at this preposterous dilemma, but will learn how gardening often results in generosity and sharing bounty with others. Primary teachers and librarians will find the book the perfect springboard to introduce a unit on plants or communities as well as encouraging the value of sharing.