With the focus on Black Lives Matter comes the discussion of what it means to be a white ally. The blog site Reading While White addresses the responsibility of allies from the perspective of a half dozen white librarians who struggle with that question every day in both their reviewing and their service to young people.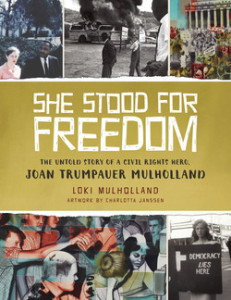 To understand what it means to be an ally, it helps to look at the roles and actions of white allies throughout history. Loki Mulholland's biography of his mother, She Stood for Freedom: The Untold Story of a Civil Rights Hero, Joan Trumpauer Mulholland (Shadow Mountain Press, 2016), contributes to that process. She Stood for Freedom has been published simultaneously as both a picture book and a nonfiction biography for middle graders, both with attractive cut paper collage illustrations by Charlotta Jansen. The middle grade edition, which I have read and reviewed, also includes reproductions of primary source documents from the Civil Rights era, including ones that pertain directly to Mulholland's activism. These show in stark detail the racism of police and political leaders in the South. One of them, written by the warden of the notorious Mississippi State Penitentiary in Parchman, scolds Mulholland's parents for allowing "a minor white girl to gang up with a bunch of negro bucks and white hoodlums to ramble over this country and…incite acts of violence."
The months that Mulholland spent in Parchman, around the corner from the death row cells, were among the ways in which she shared the sacrifices of Civil Rights activists, black and white. She was also expelled from Duke University for her political actions and finished her degree at Tougaloo College, a historically black college in Mississippi that hosted prominent Civil Rights leaders and cultural figures during the early 1960s when she studied there.
Loki Mulholland explores the life experiences that led to his mother's decision to fight for racial justice even though it meant turning away from her own family and community. Joan Trumpauer was in no way a major figure or "white savior" but rather a foot soldier of the Civil Rights movement who shared the experience of facing down state terror and brutality along with her black and white peers. In this way, She Stood for Freedom is a fitting companion to other biographies and histories of ordinary young people in the movement such as Elizabeth Partridge's Marching for Freedom, Cynthia Levinson's We've Got a Job, and Amy Nathan's Round and Round Together—all stories of teens and young adults who risked much to end the unjust system of Jim Crow. The short sections are arranged chronologically, and each describes a key event in Joan Trumpauer's life or a single topic such as the dangers of demonstrations, the lifelong friendships that she made, and the lessons she passed on to her children.