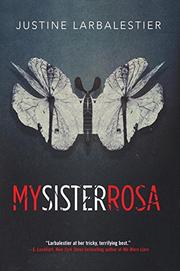 On the day that seventeen-year-old Che's little sister Rosa was born, his mother told him that he was going to have to look out for Rosa. His father added, "Protect her from the world." But now that Rosa is ten, Che spends most of his time trying to protect the world from her.
In Justine Larbalestier's new novel, My Sister Rosa (Soho Teen, November, 2016), Che has just arrived in New York City with Rosa, and his parents, who have been dragging the kids around the world chasing a series of business ventures. Che's not happy to be in New York. He misses his friends in Sydney, he misses being around people who sound like him, and the constant travel is endangering his aspirations to go to medical school. Plus, Che is the only one who believes that Rosa is a psychopath, and a danger to others. He wants four things that seem clear enough when written down, but none are easily achieved, at least without consequences. In reverse order of priority, Che wants: to go home to Sydney; a girlfriend ("someone smart and funny and sexy who likes boxing…"); to spar (because he can't progress with his boxing training unless he can spar, but he promised his parents he wouldn't); and, maybe most urgently, he wants to keep Rosa under control. Trying to control Rosa is an endless battle of wills, of promises and clarifications, to try to keep her from hurting, or killing, someone. That last one seems like a real possibility, and Larbalestier infuses the plot with the kinds of research-backed details that make Rosa's sociopathy all too believable, and that draws the tension tighter and tighter as the story unfolds.
Che falls hard for Sojourner – a fierce, African American boxer he meets at the gym. Their awkward friendship turned possible romance is so well drawn, especially considering Che is an atheist and Sojourner is a person of faith, a member of an interfaith church at which one of her moms is a minister. Teen characters who practice religious faith are rare in literature for teens, and even rarer are characters like Sojourner, for whom her faith is not a source of struggle or restraint, but a source of light and love and social action.
And while the primary plot is page-turning, there are also compelling subplots of self-sacrifice, loyalty, friendship, and romance that are seamlessly woven into the story, and a supporting cast that is diverse in racial identity, gender identity, and sexual orientation. Che may be white, but as an Aussie, he experiences New York as an outsider, and engages in realistic explorations of gender and racial power imbalances through his interactions with the peers he meets in New York, including exceptionally nuanced and organic examinations of privilege and identity.
Throughout the story there are many moments where teen readers — and those discussing the book with them — may ask, "What would I do?"  And, hopefully, will also ask questions about their own privileges, and about their assumptions and interactions with others. But for many readers, those questions may only come later, after they have caught their breath.