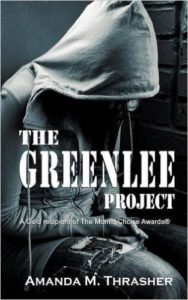 The Greenlee Project
By Amanda M. Thrasher
When Clay Monning's family has to move to a new town in his senior year, his football future looks dim until he meets with his new teammates at Aubrey Marcus High. Although friendly enough, they inform Clay he will have to be initiated into their "brotherhood." Clay asks if he can decide his own initiation, and so begins the Greenlee Project.
Greenlee Granger is a good student, though shy and quiet. When the attractive new guy, Clay, asks her to go grab tacos with him and the school in-crowd, Greenlee is overjoyed. Clay is easy to crush on: handsome, smart, and sweet or so she thinks. She doesn't realize that Clay and his teammates are marginalizing her into a project that will fling her into a nightmare of cyerbullying. Without her knowledge, everything she and Clay have done or said has been recorded and played on a website he created called The Greenlee Project, or TGP. TGP quickly spins out of Clay's control, and gains a life of its own. Greenlee and her family are devastated, but through this devastating experience, Greenlee discovers an inner strength she did not know she had.
The Greenlee Project tackles the enormous issue of the negative side of social media. Cyberbullying is a real danger that could happen to anyone. The Greenlee Project should be required reading for all teens and their families.