Two sisters abandoned in a strange land. Another sister lost to the sea, who returns as a ghost. A missing father. A wicked stepmother.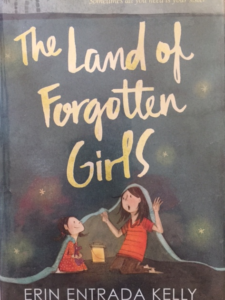 These are the stuff of fairy tales, but they're also real life for 12-year-old Soledad (Sol) Madrid and her six-year-old sister Dominga (Ming), two girls born in the Philippines and now living in Giverny, a town outside New Orleans strictly divided between rich and poor. Sol and Ming live on the poor side of town, in a bleak apartment complex called Magnolia Towers. Years ago back home, Sol's sister Amelia drowned in an accident for which the headstrong, mischievous Sol blames herself. A year later, Sol and Ming's mother died of a broken heart. At the funeral, conniving Vea sidled up to the girls' father and used him and his U.S. work permit as her ticket to America.
Now Papa has abandoned the family, returned to the Philippines, and a struggling Vea regularly abuses Sol and Ming. As Sol narrates,
If you want to know what happens to bad girls who live with an evil stepmother, I'll tell you: they get put in a closet. You've probably heard that before. But when you are the daughter of Mei-Mei Madrid, closets are of no concern to you because a closet can become anything. Your mind is a palace.
And while Sol has her imagination and her friends, notably Latino neighbor Manny, Ming clings to her stuffed giraffe, Mr. Elephant, and her dreams of a rich fictional aunt who will sweep the girls away. Even the imaginative Sol is losing patience with Ming's dreams, but when Vea steals Mr. Elephant, Sol, Manny, and an improbable friend from the wealthy side of town concoct a plan to help Ming escape her situation, at least for a while.
Author Erin Entrada Kelly's novel is rooted in the lush landscape of southern Louisiana where she grew up with a mother who immigrated to the U.S. from the Philippines. The Land of Forgotten Girls weaves a realistic tale with fairy tale tropes and a ghost story, creating a delightful hybrid that rises on the engaging first person voice of its tough, resilient protagonist. Sol is a "naughty girl" who appeals because she does things many of us would like to do. But sometimes her pranks go too far, and we see her trying her best to make amends. All in all, she's trying to survive a bad situation and to help her more vulnerable sister, and that's what makes her so memorable, engaging, and, ultimately, lovable.