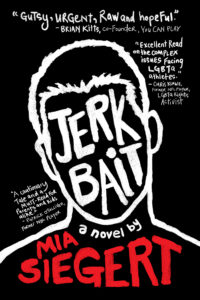 Robbie is the oldest twin by fourteen minutes – a star high school hockey player on the radar of scouts for professional teams. Tristan is his shadow – not mediocre but not someone looking a professional sports career (except as maybe Robbie's assistant). But when Robbie attempts suicide, their father orders Tristan to give up everything he has enjoyed doing to watch over his brother and cover for him, explaining Robbie's efforts to kill himself as food poisoning and car accidents. In the meantime, Tristan has fallen in love with musical theater but cannot tell his parents because they believe every male in the theater is gay, a fact reinforced by the boys' artistic uncle who died many years ago of "cancer" and who no one talks about. The shocking truth is that Robbie is the twin who's gay, and Tristan is straight. And the stress of hiding that fact from homophobic teammates, a mother who can only think of her dead brother, and a father who believes pro teams won't draft a gay player is what has driven Robbie to multiple suicide attempts, and ultimately to a dangerous relationship with a man he met online. Because their parents won't get outside help for fear of scaring off the scouts, Tristan is forced to protect Robbie all by himself while keeping the family's secrets, a responsibility no 18-year-old should have.
Mia Siegert digs deep into stereotypes of gender and sexual orientation in her debut novel. While there are two typecast gay characters – one a theater geek, the other a friend who's introduced to Robbie at a party – Robbie and his teammate Raiden are not. Other characters besides Robbie and Tristan defy expectations, notably Tristan's oldest friend, fellow writer Heather, whose behavior is so destructive and underhanded that she becomes a cautionary tale of the havoc adolescent cruelty can wreak. While this exploration of stereotypes is eye-opening, Tristan's story remains the strength of the novel. Siegert never loses her focus on her protagonist and his conflicts between loyalty to family and his desire to make his own way in life. Readers will especially feel his sense of urgency and loss as he discovers his voice in musical theater but has very little time to develop it before the opportunity will pass him by.
Jerkbait was published by Jolly Fish Press, a small press in Utah that encountered financial problems and announced its closing last month. Fortunately, North Star Editions acquired the imprint and the books are still available. Jerkbait's back matter includes information about You Can Play, an organization dedicated to the inclusion of LGBT athletes.