THUNDER BOY JR. by Sherman Alexie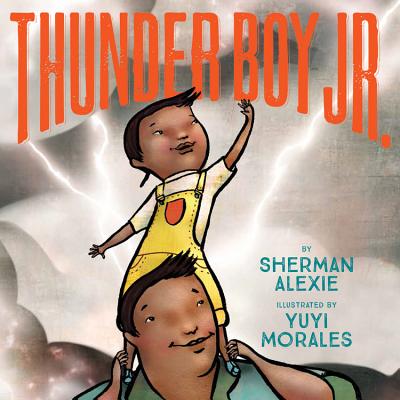 Celebrate National Native American Heritage Month – all November – by celebrating Native American literature. Ask your library or bookstore for books written by Native Americans. See through their eyes. Listen to their voices. Here are some great books to enjoy and share with young readers, some fun, some sad, all offer great stories.
THUNDER BOY JR. written by Sherman Alexie and illustrated by Yuyi Morales is a charming picture book that speaks to what all children feel – "I want to be me."   Little Thunder was named after his father, Big Thunder – both father and son are officially Thunder Boy Smith. But the nickname of Little Thunder has become a "storm filling up the sky," because the nickname feels like being called a burp or a fart.
Thunder Boy laments, "Don't get me wrong. My dad is awesome. But I don't want to have the same name as him. I want a name that sounds like me. I want a name that celebrates something cool that I've done."
Thunder Boy thinks about several exciting possibilities. "Not Afraid of Ten Thousand Teeth" is a name that tells how he touched a real orca on the nose. "Touch the Clouds" reflects how he once climbed to the very top of a mountain. "Full of Wonder" hints of how he dreams of traveling the whole wide world.
Thunder Boy's Dad is indeed an awesome dad. He understands. Together – father and son – create a new name that shouts like thunder and lights up the sky.
One of Sherman Alexie's inspirations for THUNDER BOY JR. was The Snowy Day by Ezra Jack Keats, published in 1962, the first picture book that focused on an African American child. "I so strongly identified with that," Alexie says, "I wanted to replicate that experience, because in literature in general, there aren't many Native American children."
I urge you to also read Sherman Alexie's The Absolutely True Diary of a Part-Time Indian. This autobiographical story about Alexie's boyhood on the Spokane Indian Reservation won a National Book Award in 2007. It is frequently on the list of most-banned books, and, fortunately, Alexie Jr. keeps thundering on.
Tim Tingle, Choctaw, is another favorite author of mine. Two poignant and powerful books of his are HOW I BECAME A GHOST, about the Trail of Tears, and the Texas Bluebonnet award-winning picture book, CROSSING BOK CHITTO, A CHOCTAW TALE OF FRIENDSHIP AND FREEDOM, illustrated by I Jeanne Roroex. Both books have been reviewed here. Both books are dynamite, engaging reads!
Try any of Joseph Bruchac's books, he has written several hundred. Two of my favorites are Skeleton Man and Codetalker.