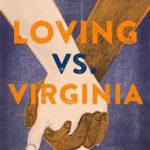 I can't think of a time when we have needed a profound book like this more than we do now. Since we are evidently in a period of doomed-to-repeat-history, it's important that young readers (whose parents are not that much younger than the era when interracial marriage was illegal in states like Virginia) know some ugly truths about American history. This novel weaves together fictional dialogue (in free verse) with visual documentation of what segregation and anti-miscegenation looked like.
The narrators are Richard and Mildred Loving and their dialogues are based on the landmark Supreme Court ruling that they inspired. The Lovings were a mixed-race couple who married in Virginia in 1958, only to be arrested and sentenced to a year in jail for their audacity. Their sentence was suspended for 25 years with the proviso that they leave Virginia, which they did. But not for good.
Interspersed throughout the narrative are photographs, quotations, and documents (such as Virginia's Senate Bill 219, the "Racial Integrity Act" which was enacted to prevent interracial marriage and therefore bi or multi-racial children) as well as intertitles that explain the progress of the court case. Many of these are sobering, such as quotes by the inimitable misanthrope George Wallace. But there are also others that inspire hope, such as the Brown v. Board of Education decision, and a photo of black and white children marching for integrated schools.
Loving vs. Virginia: A Documentary Novel of the Landmark Civil Rights Case  is being published in January by Chronicle Books and is illustrated by Shadra Strickland. It comes in at 256 pages, though that includes a timeline of the Civil Rights movement and an extensive bibliography. It's an easy read, so kids into chapter books can handle it. But it's also an efficient reference for a reader of any age.