To close out my year, I offer the second of two reviews of William Morris Award finalists. The award is given by the Young Adult Library Services Association of ALA (YALSA) to outstanding debut YA novels, and this deserving finalist is Sonia Patel, the author of Rani Patel in Full Effect, published by Cinco Puntos Press.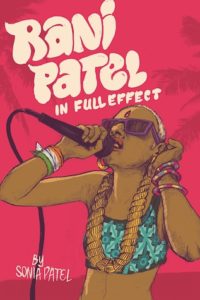 Just shy of her seventeenth birthday, Rani Patel is a high school senior living on Moloka'i Island in Hawai'i. Born in India of Gujarati parents whose marriage was arranged, she has lived in Kenya and Connecticut before coming to Moloka'i so her father could open a restaurant – one that he neglects, forcing her mother to work long, grueling hours. At the beginning of the novel, Rani discovers the reason for her father's frequent absence and coldness to his family: he is having an affair with a woman hardly older than Rani. That night, Rani shaves off her hair – a traditional response of a widow.
We learn that Rani is in a way a widow, for her father regularly abused her sexually before his affair with 21-year-old Wendy Nagaoki. The teenager responds with her own sexual attraction to 31-year-old Mark Thoren, a blond rapper and organizer of 4eva Flowin', a rap crew that she wants to join. Two high school classmates, also rappers, try to warn her of the danger, but she refuses to listen. While rapping about the need for women to control their own lives, Rani repeats the same self-destructive roles that her father forced on her.
Patel is a Hawai'i-based psychotherapist, and she combines deep knowledge of her subject with a complex, realistic, and memorable protagonist. The novel evokes the lushness of the Hawaiian landscape, the ethnic diversity of its people (along with the Patels' uniqueness within that mix), and the battles over natural resources and indigenous rights. Present too is the desperate poverty that many Moloka'i residents face and the omnipresence of drugs as a way of numbing the pain. Set in 1991, at the height of hip hop, Rani Patel in Full Effect evokes those years through the music, the cars, the clothing, and the lingo, with a glossary that explains words and phrases in Gujarati, Hindi, Tongan, Hawaiian pidgin, and hip hop slang. The author provides a discussion of incest and its long-term effects (including some of the liberties she took in the service of the story) and resources to help other young people who have been victimized by a parent or other family member.