Tiny Stitches
By Gwendolyn Hooks
Illustrated by Colin Bootman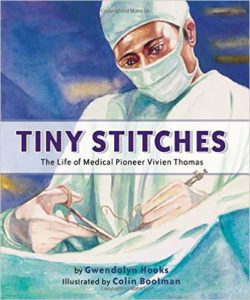 During his childhood in Tennessee, Vivien Thomas learned from his father, a master carpenter, how to measure, cut, and splice pieces of wood together. When he was a teen, they became a team, building or repairing houses and earning a decent wage, but Vivien harbored a dream: he wanted to become a physician. With that in mind, he deposited most of his salary into a bank account. However, in 1929, the stock market crashed. Vivien lost all his hard-earned savings and also his job because no one could afford to hire carpenters.
At this difficult time, a friend suggested he apply at nearby Vanderbilt University as a research assistant. Vanderbilt at that time was not integrated; Vivien knew he couldn't study medicine as an enrolled student, but if he got the position, he could observe and learn on his own. Dr. Alfred Blalock was so impressed with Vivien's interview he hired him on the spot! By observing Dr. Blalock, Vivien was soon conducting experiments of his own. Dr. Blalock was especially impressed by Vivien's tiny surgical stitches.
Unfortunately, Vivien later discovered his position wasn't listed as a research assistant like his Caucasian co-workers; his was referred to as janitor which was not only insulting but meant a lower salary for the same work. Upset, he confided in Blalock that he'd have to quit. However, Vivien's next paycheck reflected a raise. The two men had forged such a good working relationship that when Blalock was offered a position at the prestigious Johns Hopkins Hospital in Baltimore in 1941, he said he'd accept only if his assistant could be hired, too.
Throughout his long career, Vivien perfected his surgical skills and helped to save the lives of many "blue babies," infants born with heart defects (now referred to as Tetralogy of Fallot). In 1976, Vivien received an honorary doctorate from Johns Hopkins University.
Hooks' quiet, respectful text fleshes out the life and struggles of this remarkable medical innovator that mainstream history had previously overlooked. Bootman's luminous watercolor illustrations complement the text. Together, Hooks' and Bootman's collaboration reflects Vivien's struggles, fortitude, and perseverance. Tiny Stitches would make an excellent addition to any library seeking to expand their science, biography or Black History collections.