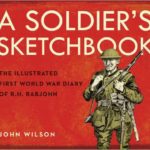 In this era of alternative facts, let's take a look at credible documentation of a particularly gruesome start to the 20th century called World War I. Historian John Wilson has created a children's book that makes the cruelty and privations of war understandable and digestible. Based on R. H. Rabjohn's 1970 memoir A Diary: A Story of my Experience in France, and Belgium, during the World War, 1914-1918, and from a book Rabjohn published privately of his sketches from that period, the book documents the devastating effects of war on humankind (and on other life forms, such as horses and mules and flora that suffered as well as the soldiers and European civilians did).
Wilson narrates the book in themes, complementing the first-hand account by Rabjohn in words and pictures with a larger historical context.Rabjohn's sketches are rather startling in their clarity and objectivity. This is a terrific, straight-forward read for young readers about a war that left an entire generation–gone now–struggling to understand the purpose of modern warfare.
A Soldier's Sketchbook is being published by Tundra Books in March. At 112 pages,it is aimed at readers in grades 5 and up.