---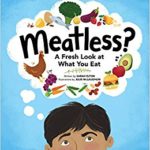 This is the best kind of non-fiction writing, where the author has no agenda and learns along with the reader. I think this book was written for me…I tried out vegetarianism several decades ago for humanitarian reasons, motivated by an awakening to the barbarism of human-supremacy over other animals in order to consume them. I did fall off the wagon eventually, mainly for the sake of convenience, but this book has rekindled my interest. It's  no preachy tome about the evils of eating animals, though. In fact, the author is not a vegetarian, but wants to understand the concept, and wants readers to think about what it is we do when we eat meat.
Meatless?  shows the variety of meats eaten in different cultures; the history of meat-eating in human culture; the history of farming and animal husbandry; the economic significance of meat; the history of vegetarianism and of the ethical issues surrounding animals as food; and religious issues.
The book goes on to examine how one can move toward eating less meat if total vegetarianism is not practical. Without sermonizing, it relates the environmental price of meat consumption (methane, transportation, feed). I am especially intrigued by the concept of test-tube meat, which heretofore had only been a soundbite to me. Young readers will be tantalized and delightfully grossed out by the environmental and nutritional value of eating insects. Teachers can use some of the simple vegetarian recipes as a classroom activity.
Meatless? A Fresh Look at What You Eat is written by Canadian author Sarah Elton and is illustrated by Julie McLaughlin. It is aimed at a wide-range of readers (Grades 2 through 7), and come sin at 48 pages. It was published in May by Owlkids.