On her birthday, Teresita anxiously waits for a surprise from Tio Ramón and his snow cone cart.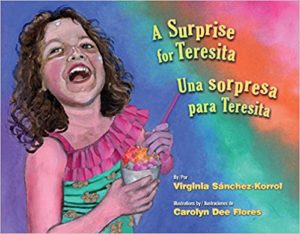 As she waits for Uncle to arrive, Teresita tries to keep busy. She helps her mother with some chores then joins friends to jump rope then play Red Light, Green Light. Even though she has fun, she is distracted, listening for her uncle's voice to call out, "Snow cones! Snow cones!" Finally she hears him a few blocks away. Teresita wants to run to meet him, but remembers Mamá's rule to stay in front of their apartment building. Finally, he's here, but the snow cone cart looks exactly as it should: no surprise in sight. After her serves snow cones to her many friends, Uncle has time for Teresita. Her surprise is better than a sweet treat. It is inside an old shoebox with holes cut out on both sides, the perfect gift for a big seven year old.
Each page of Sánchez-Korrol's gentle story is printed in both English and Spanish. Flores' evocative, vibrant art makes the text come alive. This would be a wonderful addition to any home, school or public library.