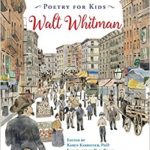 I came across Moondance Press's Poetry for Kids series, which includes Emily Dickinson, Robert Frost, and even Shakespeare in addition to this title. I was unfamiliar with this concept of using adult poetry as a source for children's reading (target audience is grades 3-8) , so I read each one out loud. The poems (many of them excerpted)  are carefully chosen and also enjoyably challenging.
For comprehension front-loading there is an informative one-page introduction and delicate water color illustrations throughout. Poems about nature, Native Americans, slavery, and war will elicit many questions and much discussion from young listeners.Some terms are defined in footnotes below the selections. (My favorite poem was "When I Heard the Learn'd Astronomer" because it brought me back to my college freshman year and my inability to identify any constellations during the final exam in the planetarium…)
The editor also provides short interpretations of each poem or excerpt at the end of the [48 page] book.Poetry for Kids: Walt Whitman was released in May.