Extra Yarn
Written by Mac Barnet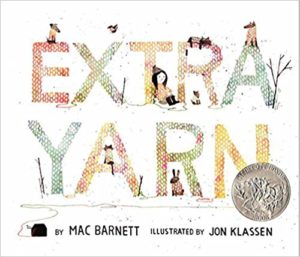 Illustrated by Jon Klassen
In a small cold town where everything is drab and colorless, Annabelle finds an abandoned box full of yarn of every color.
Being resourceful, Annabelle knits herself a sweater from the many colors of yarn. She loves her new look, and because there is plenty of yarn left over she knits a matching one for her dog, Mars, and takes him for a walk. So the story unfolds with Annabelle knitting sweaters for person after person, from grumpy friend Nate to her teacher, Mr. Norman, and as a good fantasy story develops, she knits new looks for inanimate things like houses and cars. When the rich, famous, and greedy Archduke demands a sweater, Annabelle refuses. He persists and so does Annabelle, but when he steals her box of yarn, he learns a much needed lesson.
Barnet's enchanting story breathes new life into the fairy tale genre while Klassen's delightful illustrations make Annabelle's world come alive. Its message of sharing and kindness as well as its wonderful humor will charm most readers.