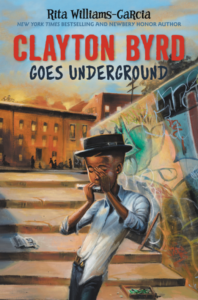 Ten-year-old Clayton Byrd looks forward to every summer weekend when he joins his grandfather, Cool Papa Byrd, to play the blues in Washington Square Park. Cool Papa Byrd is a venerated bluesman, a guitar player, and he has promised to let Clayton play a harmonica solo one day. When he's good enough. When he understands the blues.
Back at home Cool Papa reads Clayton a bedtime story of a boy whose adventures take him all over the world—just like Cool Papa traveled the world in the Navy. But that night, when Clayton goes to sleep, so does Cool Papa, but Cool Papa never wakes up.
At the funeral, Clayton's mother won't let him play the harmonica. She clears out her father's things as quickly as possible, even though Cool Papa promised Clayton his three guitars and all his record albums. Left to face his grief alone, Clayton starts falling asleep in school, and when his mother punishes him by taking away his harmonica, he steals back the blues harp and runs away. His journey takes him into the subways, where he runs into a ragtag group of beat boxers and break dancers hardly older than he is. Seeing the boy as an easy mark, they give him some hard lessons about life, and through them, he comes to understand trouble and the meaning of the blues.
The acclaimed author Rita Williams-Garcia captures the rhythm and poetry of the blues in this story of a boy who confronts grief and loss that escalates with each passing day. Clayton struggles to hold onto his grandfather's possessions, and after they are taken away one by one, it seems that he will lose everything about his special relationship with Cool Papa. Cool Papa has warned Clayton not to be a "cute kid" performing for the audience but to feel the blues. However, his words don't become real until Clayton finds himself the target of the older boys—led by a bully—looking to take advantage of an innocent and pampered little kid. As he descends into the subway with the goal of finding Cool Papa's fellow musicians, Clayton doesn't know what he doesn't know. In addition to connecting with grieving readers, his story will resonate with those who dream of adventures in the real world but feel constrained by elders who think they are "not ready."