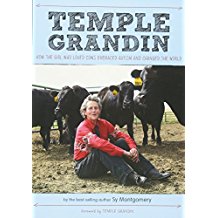 Temple Grandin: How the Girl Who Loved Cows Embraced Autism and Changed the World
By Sy Montgomery
Renowned scientist, respected professor of animal science, and devoted animal activist, Temple Grandin's determination and zeal has helped to make life—and death––more dignified for many animals. Her personal struggles and triumphs serve to inspire others to be persistent, to think outside the box to solve problems, and to teach others about the complexities of autism.
Temple Grandin faced many difficulties as a child, but her mother, Eustacia Cutler, never stopped believing in her. As a small child Temple did not laugh or talk or express love as many other children do. With her mother's never-ending support, doctors later discovered that her brain works in a far different way than many others. Today, doctors know much more about her condition now known as autism; autistic people have difficulty with speech and communication; at understanding how others feel; and have brains that function by seeing images rather than words or ideas.
Alternating chapters about Grandin's life and accomplishments with chapters on medical, engineering or agricultural facts, Montgomery's biography enables teen readers to understand the complicated world of an autistic mind. It also advises socially awkward teens to follow Grandin's advice to "geek out" by finding like-minded friends and work together on cool projects.