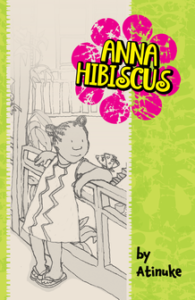 I've always loved the Anna Hibiscus picture books by Nigerian-born Atinuke so when publisher Kane Miller sent me copies of the latest in the Anna Hibiscus chapter book series, I was super excited! My 6 year old and I have been reading them these past few weeks. I would read anything to him that I thought was a positive, authentic portrayal of Africans living in an African country but it's a big plus that the day after we started, when I asked him if he wanted to read more, he said, "Yes, I like those books." I know my child has more than the usual velcro hooks for African culture, but I would feel equally comfortable saying that most children in the 4-8 age range will gravitate towards Anna Hibiscus as a believable, lovable character with a rambunctious, delightful, sometimes raucous family who both create the problems she endures and also participate in the solution. My son and I have laughed out loud as we participate in Anna's many adventures.
The books are naturally filled with storylines that are both interesting and fun to read but also debunk common myths and beliefs about Africa–for example, that Africans live in the bush, surrounded by wild animals. Or that all Africans are poor. Or that most Africans live in war-zones.
One caveat: I wish the series would identify the region these books are set–specifically, west Africa, and more specifically, this is likely Nigeria. Africa is a very big continent with diverse cultures, geographical settings, and languages. Westerners are apt to think it's one big country, sort of like the United States of America, and by failing to identify and locate Anna's story in a more specific geographic region, it may be that readers will continue to conflate the continent with a country. But astute teachers, parents, and readers can look beyond that and see the aspects of this book that situate it more firmly in west Africa, such as the outfits that people wear and the foods they eat.
Highly recommended!