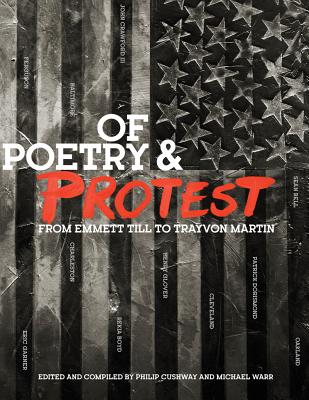 Edited & compiled by Philip Cushway & Michael Warr, photographer, Victoria Smith
This incredible collection of poems, personal essays, and photos celebrate contemporary Black poets. The book's dedication reads: To all those who have died because of the color of their skin." If there is one poetry anthology you look at this year, look at this one. Contained within the 200 pages, an older reader will hear the words of Harry Belafonte, Elizabeth Alexander, Wanda Coleman, Marilyn Nelson, and on and on and see through their eyes, listen with their ears, and remember, reflect, become transformed.
Philip Cushway and Michael Warr have woven together a rich, strong, pulsating selection of voices and images. Cushway's introduction states:
"OF POETRY AND PROTEST: FROM EMMETT TILL TO TRAYVON MARTIN is unapologetically political. It sees, hears, and absorbs the political in its myriad voices, tones, comprehensions, forms, experiences, performative-interpretations, and experimentations, no matter how far beneath or above the scrutinizing radar, recognizing that beauty can be found in the whisper, the scream, or in silence."
As an anthology of living poets the voice of Gwendolyn Brooks is not directly heard. But many of the poets in their personal essay contribute the inspiration for their work to her. The design of this collection is fresh and raw. Juxtapositioned with each poet's personal statement is a candid, black and white close-up photo. The photographer, Victoria Smith, has captured the spirit within the poet. We see, hear, and almost touch the creator of the words. Photographs also include historical images that depict the struggles of civil rights, the children's crusade, and iconic posters. In Philip Cushway's words, "my objective was to treat the book as a work of art where all of the elements combine into an aesthetic, cohesive work – a book that would contain reverberating elements that appeal to nontraditional readers of poetry … there is something for every reader."
Ask you local library for a copy. I will wager a bet that you will then purchase your own copy. This is a book one returns to and re-discovers new layers, images, and poems that resonate again and again.
OF POETRY AND PROTEST, from Emmett Till to Trayvon Martin
Edited and compliled by Philip Cushway and Michael Warr
W.W.Norton & Company, NY 2016