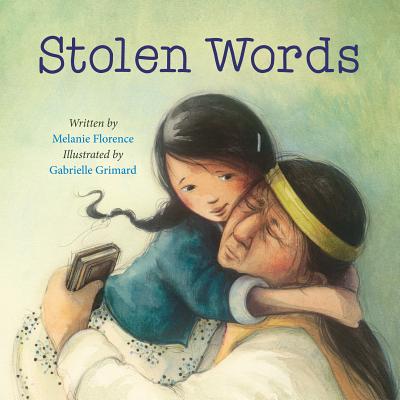 STOLEN WORDS shows how words reconnect us with people, with culture, with our home language, and with our most precious childhood memories. This simple but stunning picture book was written by Melanie Florence, Illustrated by Gabrielle Grimard, and published by Second Story Press.
"Will you read to me? she asked."
At seven she was so excited – now she could read real words in books but she wanted to hear the words in her own language, in Cree.
"Will you read to me? she asked."
Grandfather sadly looked down at his little granddaughter.
"I don't remember, he answered. I lost my words a long time ago.
How do you lose words, Grandpa? She asked.
They took them away, he answered.
She thought for a moment.
Where did they take them? she asked.
Grandpa explained that when he was a child he had to travel far away from home to go to school. The students were punished if they spoke with their own words.
"They took our words and locked them away…."
This determined granddaughter decides she will figure out some way to help her grandpa find his words again.
STOLEN WORDS was written by Melanie Florence, Illustrated by Gabrielle Grimard, and published by Second Story Press, Toronto, Ontario, Canada www.secondstorypress.ca  Stolen Words was the WINNER of the Second Story Press Aboriginal Writing Contest