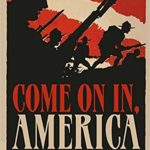 Although the title is somewhat misleading (and actually a little odd), Come on In, America is a very thoughtful and thorough examination of the Geo-political and cultural aspects of World War I, a conflict that, at one hundred years old, is largely forgotten by the American public.The book also makes an intelligent parallel to issues faced by Americans in the post-9/11 era.
There are vintage photographs from the time period, along with posters, maps, and drawings. Teachers can have students read the Timeline at the end first, for a sense of chronology before reading the text.
Come on In, America comes in at 176 pages and was released by Abrams Books for Young Readers in March of this year. It doesn't specify a reader-range, but I would put it at ages 13-18, depending on interest level. It's certainly one of many good books that acts as an antidote to dry textbook reading.