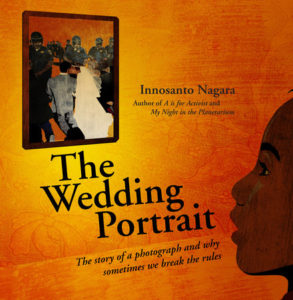 In the past few years, Indonesian-born author/illustrator Innosanto Nagara has distinguished himself with multiple picture books on youth and activism for ever-older readers, all published by progressive small press Triangle Square, the children's imprint of Seven Stories Press. His first two, A Is for Activist and Counting on Community, are board books that introduce the alphabet and numbers respectively along with famous activists throughout history and ways that readers can contribute to their own communities. His third picture book, A Night in the Planetarium, recounts the time when he was seven years old and he and his mother took refuge in the planetarium while police raided his home in Indonesia and his playwright father fled for his life.
The Wedding Portrait takes place some two decades later, after Nagara moved to the United States to study art and work as a graphic designer in California. Born into an activist family, he continued in that tradition and at the time of his wedding was involved in the nuclear disarmament movement. Rather than marrying in a church, he married in a way that the local newspapers became his official photographer.
Nagara's own wedding frames a collection of mini-stories about different forms of activism in the past and present, in the United States and around the world. Elementary school readers learn about various forms of civil disobedience and nonviolent direct action in the U.S. civil rights movement of the 1950s and 1960s, India's independence movement, the struggle of the indigenous U'wa in Colombia against oil drilling on their lands, Florida farmworkers organizing a boycott against wage theft, and Bree Newsome's removal of the Confederate flag from the South Carolina statehouse. (One may want to point out, for older readers, that she and James Tyson cut the flag down not only because of its general symbolism of racism but also as a direct response to a white supremacist's murder of nine African-American church members at the Emmanuel A.M.E. Church in Charleston two weeks earlier.)
Addressing itself directly to readers, The Wedding Portrait will encourage them to learn more about each of these movements as well as the various means of ending injustice and bringing about change through civil disobedience and direct action, including sit-ins, tax resistance, blockades, and boycotts. Nagara challenges his readers to assess whether a particular situation constitutes an injustice worthy of civil disobedience ("Do you think hiding under the bed to avoid taking a bath is a kind of sit-in?") and what the best strategy would be for challenging the injustice. In this way, he encourages young readers to think for themselves, discuss with their peers and adults, and, working together, take action to create a better world.