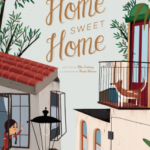 Home Sweet Home will steer young readers away from their own conceptions of how people live around the world.  We see the interior designs of some of the homes, but illustrator Paula Blumen always shows the exteriors, to give them cultural context. Children will sense the density of population or the environmental surroundings. There are even small hints that indicate economic status.
Pre-readers will likely be thrilled by the bold colors in these illustrations of abodes around the world, and they will certainly like that the narrators are animals!
With forty pages, Home Sweet Home is aimed at children in grades K-2. It was published by Frances Lincoln Children's Books in October of 2017.