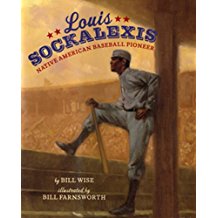 In Maine in 1884, Louis Sockalexis, a young Penobscot boy was invited to join a group of white boys playing a new game called baseball. By the end of the day, Louis had fallen in love with the sport.
At that time Native Americans were forced to live on reservations. Louis's father was a Penobscot leader and from him, Louis learned to honor and be proud of his heritage. Louis attended a Catholic high school with a strong sports program where he was recognized for his athletic talents and learned to become a strong player. No matter how well he played, racist slurs were regularly shouted during games, but Louis focused on playing his best and hitting powerful home runs. Later in college, Louis was offered a chance to play on a professional team, the Cleveland Spiders. Against his father's wishes, he traveled to Ohio, to play in the major leagues. However, the crowds believed that baseball was a white man's game, and wanted Louis to fail. Playing the New York Giants, with their phenomenal pitcher, Amos Rusie, Louis shocked the spectators by hitting a home run that sent the ball farther than any batter had ever hit one in this field. Sadly, an injury ended Louis's career though he finished the season with an astounding .338 batting average!
Wise's prose captures the strength and talent of this little known baseball great, the first Native American baseball player. Farnsworth's powerful and beautifully rendered illustrations add depth to the text. Highly recommended for middle grades and up.