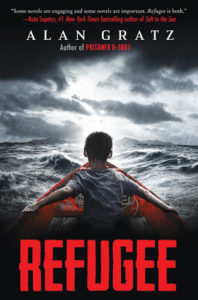 The news today is filled with the plight of refugees from Syria and elsewhere trying to find new homes while it seems that the rest of the world – including the United States – is trying to keep them out. Alan Gratz's novel for older middle grade and young adult readers, Refugee, presents three 13-year-olds forced to flee in three different time periods. Josef Landau turns 13 and celebrates his Bar Mitzvah on the St. Louis, a German ship filled with desperate Jews escaping from Nazi Germany. In 1994, during the "special period" of deprivation following the collapse of Cuba's benefactor, the Soviet Union, Isabel Fernandez and her family, including her pregnant mother, join their neighbors in a leaky boat headed for Florida. In 2015, Mahmoud Bishara and his family run from their bombed-out home in Aleppo, Syria toward the Turkish border, hoping to cross more than half a dozen countries to a new life in Germany.
Gratz goes beyond the headlines to create three-dimensional characters who face personal problems as well as ones resulting from hatred and war. Josef takes his responsibilities as a Jewish man seriously, turning down his little sister's entreaties to play with her while he tries to reconnect with his traumatized father, just released from the Dachau concentration camp. Isabel's crowded boat brings forth her parents' marital issues, their quarrels with their neighbors, and her own attraction to the neighbor's baseball-obsessed younger son. Mahmoud has survived in Syria by being invisible, but he learns on this trip that by standing out and standing up, he can lead his family forward on their journey. Also well rendered are the settings, particularly the luxury cruise ship where the Landau family and other Jews are treated well for the first time in years, and the way in which the upper middle class Syrian refugees use their smartphones to guide them on their way.
Ultimately, the people along the way and those at the end of the journey figure as prominently as the main characters, as Gratz challenges readers to observe their actions toward the refugees and note the judgment of history. Tying the three stories together at the end, Refugee is an excellent choice for middle school social studies classes and book clubs.